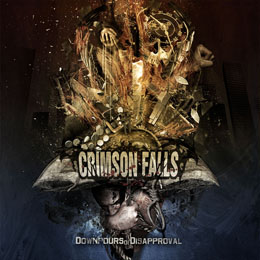 Release Date:
Friday, September 6, 2013
Darn...it seems almost impossible, but the new Crimson Falls album exceeds my expectations with giant leaps. I'm só exhilarated I can't think where to begin first to explain...but first, let's give you an update on what's been happening with the band since we last came across this great Belgian Melodic Death Metal/ Metalcore act, shall we?
You see, our relationship with Crimson Falls goes back to the review (posted 02/06/2011) of the re-release of the band's previous album, Fragments Of Awareness (original review posted 13/04/2009 – both reviews are still available for your fact-finding needs in this website's "Archive" section), and the guys followed that re-issuing of their second full-length with a new European tour, which took the band through Luxembourg, the Czech Republic, Slovakia, Rumania, Austria, and Germany. To boot, the guys also did several week-end tours, taking 'em to venues in Belgium, Holland, and Denmark. Toward the end of 2011, writing sessions were temporarily halted, as the drummer who'd just entered the fold a year-and-a-half ago, decides to quit. A replacement is eventually found in March of 2012 in former Leptotrichia/ Apocryph/ Naskar man Youri Seynhaeve, and with this new experienced drummer in their midst, CF feels the urge to start gigging again...but first, to again concentrate on writing sessions for new material, which they eventually start recording in March of 2013 at Amsterdam's Split Second Sound with producer Jochem Jacobs (formerly of Textures).
Following extra recordings (done at Red Left Hand Studio with old friend Sven Janssens during May) for vocal additions (guest appearance by Brent Vanneste of Steak Number 8 on the track "How Much Does Life Weigh", guest appearance of Textures' Daniel De Jongh on "The Generation Chasm", and gang vocals by a "choir" consisting of Vanneste, Sam of Inside The Hail, and CF's own Wim, Youri and Kristof), the whole is mixed by Jacobs during June and July of last, before being sent off to the legendary Alan Douches, whom mastered the files at his West West Side Music studio in New York.
With an increased amount of samples (something I didn't touch on in my reviews of the previous album) and gang vocals, the whole is even more catchy than before. Let's not forget, at this point, to mention an increased mastering of the instruments, resulting in even more elaborate atmospheric passages with guitar played in almost unrecognizable "Ambient" way. Not only for a couple of truly nice intros or outros, but also for the Hip Hop-influenced "Culture Of Cancellations", which includes a large Rap vocal section! The guitars also bring an even more attractive lead/ solo play, brutal and melodic at the same time. With that same underneath complexity underneath which already was so catchy in the first place on their previous album, but with even more effective overall melodies, you know!? You don't? Well, in that case you'll find it more interesting to actually listen to some of the music, eh? At (www.) facebook.com/crimson.falls.9, you can already listen to the tracks "Le Coup De Grace" (done in French, and dealing with the former Belgian gangster Patrick Haemers – read more about that topic in the liner notes of the songs in the album's booklet...very interesting that : each song has liner notes, explaining what it's about!) and the album's title track, plus an older track...but really you're even better off logging in onto (http://) crimsonfalls.bandcamp.com, where you can listen to the complete album (all 11 songs), and even download it (at a fee of course).
But...that would leave you without that more than interesting booklet and its liner notes, wouldn't it? And, you know, I feel you would support the band much more by ordering the physical album, as it is released through the band's own label! Dó go get the album...dó go see the band at one of their upcoming shows...dó support this band, period! And add Downpours Of Disapproval to your list of socio-politically correct favorite albums!