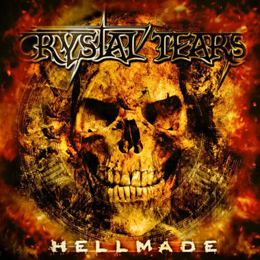 Crystal Tears a Greek/Danish metal band founded in 1997. Members sinds 2012
Søren Adamsen (Vocals, 2012- ), Kostas Sotos (Guitar, 1997 - ), Mate Nagy (Guitar, 2012 - ), Alex Hamalidis (Bass, 1997 - ) and Chrisafis Tantanozis (Drums, 1997 - ). After some years en several demo's made their first album "Choirs Of Immortal" in 2006. Played on stages with W.A.S.P., Riot and Jag Panzer and making power/speed metal.
Made their third album "Hellmade" produced by Robert Dimitri Liapakis ( Mystic Prophecy, Suicidal Angel, …) and mixed and mastered at the Prophecy & Music Factory Studios in Germany.
The album "Hellmade" starts with "Destination Zero" starts very quiet but with the great raw guitar riff at the background sounds it very great. And then Søren Adamsen (ex-Artelliery) starts to sing …what a voice. Third song sounds great "Out Of The Shadows" great story told with this sound. With nice kick drum and a great guitar play. This is one of my favorites. Second favorite: fifth song "Resurrection Suicide" in this song they pull all the stops out. Great rhythm and a great voice! And then a of nowhere "Under The skin" start with a classic guitar piece. After the quite piece the song burst open! And to close the album a cover "Beds Are Burning" from Midnight Oil. They turned the song to their own vision and sound. It is not a copy off and sounds even better and rock harder than the original.
All by all great album with some great surprises and original songs.