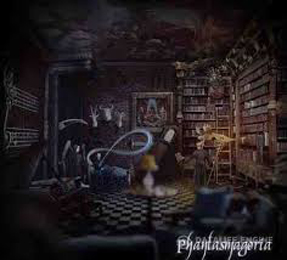 Hailing from Ouro Preto in Brazil, composer/ singer/ keyboardist Guilherme de Alvarenga came up with the idea to mix Classical Music's composition techniques (such as motif development and thematic unity) with melodic Death Metal, while attending music college in 2009.
In fact, he immediately got together with guitarists Edu Megale and Iz Castro (the latter, formerly of Autarchy, and today still active in Hell Trucker, of which Guilherme is also a member; left D.A.M. In 2013), bassist Flipe Avalar (also left in 2013), and drummer Kaio César to start up his solo project, and in fact quite a few songs were composed/ rehearsed in that first year. However, due to college obligations, the outcome was set aside for a while...and a first show of his musical prowess eventually came thru' the single "Dark Night Of The Soul", released in March of 2013. Response from internet media specialised in the genre was positive to say the least, and as a result Guilherme went in search of the appropriate people to bring the music in live settings. At the same time more recordings took place, with the EP Possessed as a first result, released in April of 2013. A full-length effort, entitled Tales Of The Mad King, followed in December (and I'm quite uncertain of whom played the bass on that record – there's mention of one Tiago Parreiras taking over those duties for live purposes during 2013, but not of his participating to the album's recordings). Only 5 months (and a couple of days more) later, the band/ say project (which is now operating from out of Belo Horizonte – a big town some 430 km North of Rio de Janeiro) is back again with this 6-track EP!
Contrary to Guilhermo's claims that he's fusing Classical with Death Metal in a different way from bands that came before D.A.M., he is nót the first to come up with the idea, although it has to be admitted that he's the first to do it for the completeness of his material, whereas other bands in the past would use it as a novelty for one or two songs tops! At any rate, the final outcome is of a truly high standard, and displays several passages where lead guitarist and keyboardist enter into interesting exchanges of their individual prowess. On top of it all, Guilhermo throws a voice which, seen its gearing towards icy screams rather than to growls (which are relatively high-pitched), could be categorized as rather Blackened! The whole however, should go in quite well with music lovers beyond the mere realm of Melodic Death Metal (influences cited in that genre, and therefore usable as guideline, are Arch Enemy, Children Of Bodom, Cradle Of Filth, Death, Ensiferum, In Flames, Iron Maiden, Nightwish, The Black Dahlia Murder, and Wintersun), as some classical (Baroque, amongst others) themes also come by in certain passages.
And now for some really great news : the EP is download-able, free of charge...find the link at (http://) pt-br-facebook.com/dametalband! For more material, check the "Music Videos" section and the YouTube link that comes from that.