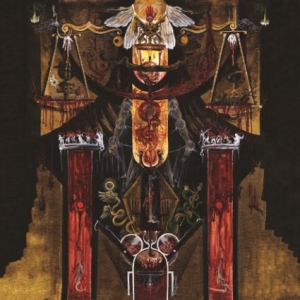 Album Title:
The History Of Death & Burial Rituals Part I
Release Date:
Friday, February 13, 2015
Death Karma are a duo that were formed in Slovakia in 2012, but currently they reside in the Czech Republic. Both members, also involved with e.g. Cult Of Fire and Maniac Butcher, released a first 12"EP in 2013, called A Life Not Worth Living, via Iron Bonehead Productions (it has been re-issued as well on tape and CD via Exitium Productions and New Era Productions respectively), and now the project returns with a second 12"EP on the majestic Iron Bonehead-label. FYI: there does exist a cassette-version too (via Sky Burial and Beyond Eyes Productions) and one on CD (Necroshrine Records).
'Death is as young as humanity itself. It accompanies mankind from the very beginning […]. As the cultural differences in society have been evolving […], different ways of burying the deceased, as well as their worship and access to the dead, were incurring. […] the emergence of different religions […] had a crucial influence on funerary rituals […] as well as on the perception of death. Many cults of death were born…'. The album The History Of Death & Burial Rituals Part I can be considered a tribute to 'death and its great value and importance to man', seen from the vision of band leader Infernal Vlad, and each composition deals with a ritual from a country, respectively being Slovakia, Madagascar, Mexico, Czech Republic, India and China. The concept might not be totally new but surely it is little original after all!
The History Of Death & Burial Rituals Part I (as the smart ones amongst us did notice: this isn't but a first chapter; there is more to come) stands for a magisterial epos, being based especially on the harshest, most evocative and ominous current of the Morbid Death Metal scene. It's one chaotic whirlwind, unsoftly carrying the listener towards, and within, dimensions of masochistic violence, muscled epic, and kaleidoscopic deconstruction. Seriously, it's been quite a while when I had the opportunity to experience this specific kind of obscured grandeur. It's symphonic and melodious, yet at the same time devastating and malignant, it's everything a dark-minded soul longs for, yet which repels at the same time. Though, there is nothing repelling actually when focusing on the whole concept in general, and the song writing and execution more specifically. Moreover, Death Karma's muSICK is mostly apart, original, distinctive, unique, difficult to make clear comparisons. Damn yeah, the better elements from acts like Ævangelist, Ill Omen or, well, several acts on Nuclear War Now!, ATMF, Invictus, Blood Harvest, do get expressed, if you want. There are so many levels, so many layers, yet composed and executed in a way that even exceeds the subtle superiority of (some of) the better bands / projects on the labels I just mentioned.
In conclusion: Death Karma do not totally renew the scene, but what they bring with this album goes way beyond what we usually experience. There are so many details to decipher, but the global majesty is truly beyond normality. There are quite some excellent releases within this specific sub-genre lately, but The History Of Death & Burial Rituals Part I for sure might be the best one to date. TOP!