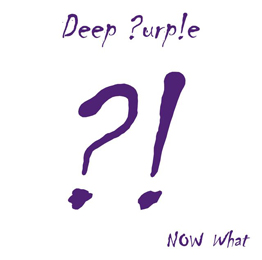 Truly one of hard rock great survivors UK's Deep Purple return with their 19th album and Now What?! is already being heralded as one of the best records the group has released in not years, but decades.
Tracks that are not too long, created with eye for detail, and totally understanding the art of restraining oneself, just to be able to burst into more power without ever losing control. Ian Gillan has a rich and warm voice that suits both the more lively tracks and the songs that have a more mellow element, such as the excellent jazzy "Blood from a stone" on which Don Airey shines through on piano and the improvisational nature of the music is evident. "Apres vous", "Above and beyond" and "Hell to pay" are strong bass-driven tracks, bearing all the hallmarks of the Deep Purple classic rock/prog style. Steve Morse plays an impressive guitar solo on the bluesy "Out of hand" which also features some brilliant and very dark keyboard work. For me the tribute track to the best organ player of all time Jon Lord, "Uncomman man" is one of the stand out tracks. It starts very gentle but symphonic but soon picks up pace.. Steve Morse delivers some inspired guitar solos. And then after five minutes second best Don Airey kicks in to start the finale of the track.
In conclusion, it might have been a eight year wait, but if that's what it takes to come up with something this good, so be it. OK, there might still be a few Ritchie Blackmore addicts-fans who long for a return to the band's hard rockin' roots, and they will be disappointed, but for most other fans this will be manna from heaven. Almost fifty years in to what has already been an impressive career, the band seem to have hit on a new golden age, and it will be very interesting to see what they come up with next.