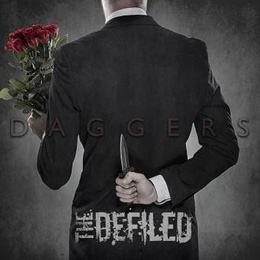 The Defiled are a five piece Britisch industrial metal band from London, England mixing groove-laden hardcore/metal with electronic influences. The band formed in 2005, and quickly embarked a number of tours early in their careers including their second, entitled "The Black Death Tour" climaxing in a sold out London show at the Underworld. These gigs have earned the band a reputation for their energetic and chaotic live shows. Earlier this year the band came with a live album called 'Grave Times Live' named after their first full album 'Grave Times'. And now these guys are already back with a new album 'Daggers'. For this album they found Nuclear Blast as their new label what means these guys are sitting now really safe. What 'Daggers' make so special? First of all, it's that kind of typical metal that young metalheads like and most of all… the fans financed the whole album.
Now what do you get? Eleven songs that are pretty good. Grunts are changed into clean vocals.  What makes this album actually 'easy listening' for everybody. Some songs, like 'Five Minutes' slowing the pace of the album, allowing the track really stand out . It has a Nine Inch Nails feel to it.
These guys are ready for the big stages!