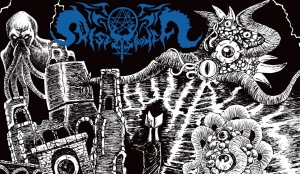 Album Title:
Plagues And Ancient Rites
This is my first acquaintance with Disembowel, but that's not that crazy for this band will come up with their first full length right now. The trio started terrorizing the world of Sonic Sadism in 2012, and in Summer 2014 they did release a first EP independently. That EP, called Act Of Invocation, was re-released in 2017 by Iron Bonehead Productions, apparently, but I've seemed to miss it somehow. Also in 2017, Leviathan (bass and voices), Azathoth (guitars) and Goat (drums) returned with a two-track-demo, which saw the light via Mushantufe Productions, a label from their home country Chile, and to my opinion largely underestimated and unknown. Maybe we can handle it in the future? But that's another matter. Anyway, both tracks from that demo also appear on the band's debut full length, Plagues And Ancient Rites, along with one reworked track from the debut-EP and some newly written stuff, all together clocking about thirty-five minutes. Once again, Chilean label Mushantufe Productions took care of the releasing duties at the very end of 2017's Autumn, on both CD and via the usual digital sources.
Enter 2018. An attendance of intelligence at the Iron Bonehead Productions headquarters decided to have this material released on vinyl too. Under the physical shape of a 12"LP, Plagues And Ancient Rites is able to be turned around, and around, and around…
In the vein of the first EP, this new full-length record is, conceptually and lyrically, based on Lovecraftian themes once more. With titles like The Ancient Cult Of Cthulhu, Innsmouth Evocation or IA! IA! Nyarlathotep you did notice this, of course. Plagues And Ancient Rites opens with a short intro, which immediately creates the right horrifying and obscure atmosphere. Dark sounds and occult-evocative voices, this is the purest introduction for what's next to come. And that 'next to come', well, I assure you that it isn't pretty!
The core of Disembowel's 'Music' (yeah, whatever) dwells in those spheres labelled as Metal Of Death. It's like an organic and permanently evolving symbiosis of old styled Morbid Death Metal, primal Doom-Death Metal, Occult Black-Thrash Metal (or rather an occult approach on Blackened Death Metal) and everything that is related to the three of them. Slower passages interact naturally well with faster ones, every time being based on definitions such as darkness, oppression, occultism, heaviness, morbidity, sinister and, indeed, the Cults of the Old Ones. Therefor this re-release is like a logic addition on Iron Bonehead Productions' roster (but that's aside the content). The eight compositions are balancing in between melodious (the main structure is based on melodic guitar riffing) and harsh (mind the monumental rhythm section), including some thrashing solos, excellent pounding drum patterns, timeless riffs, thunderous bass lines, and a foul, deep throat. Metal of Death? Indeed it is!
Quite sweet is the variation within each composition, yet maintaining the very same suffocating horror when talking about the atmosphere and essence of existence). Faster and slower passages, and everything in between, permanently interchange (in a cohesive way!), and melodic guitar-based pieces go well with overwhelming power-attacks. Chaos, yet with a structure, that's a vision of dedication – a dedicated effort from a country that has a vivid, and impressive, scene – and Disembowel climb up to the highest regions by means of this album.