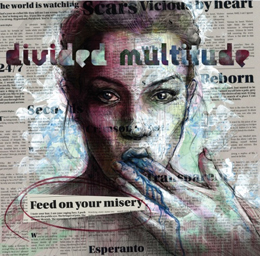 Once again my musical tastes have been expanded and this time it's by Divided Multitude and their new fourth album Feed On Your Misery. 
With an 18 year history behind them, they have no excuse for anything else other than what they believe in doing and continue to peddle out their respected brand of melodic prog metal that whilst not exactly the most original on the face of this planet, still allows for a few delves into diverse waters when it wants to. There are a few thrash moments intact, intentional or not I wouldn't know, but they work into the wood with the rest of the nails and I can't see too many complaints being made This is a fine album with supreme musicianship and vocals to match with highlights including the heavy ballad "Crimson sunset", the dramatic epic closer "Reborn" and the power-riffery of the fast-paced title track.
The music on this new CD could be called anything from power metal to progressive metal, to good ol' stadium rock from the 80s. It doesn't matter what you call it, however, because Feed On Your Misery just rocks hard.