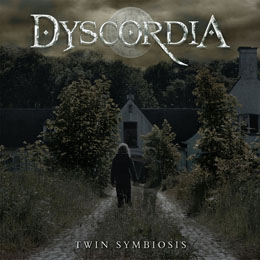 Belgium, a country unknown to most, but I have to admit we spawned a decent number of musicians and bands. One of those bands is Dyscordia, a progressive metal band from Kortrijk. The band has been at it for some time as they have been supporting bands like Primal Fear, ReVamp, Ensiferum, Alestorm, At Vance,…..
So I did have big expectations for their latest album witch has been out for some time now. The album entitled "Twin Symbiosis" starts rather strange with a psychotic circus theme song (best way to describe it). But it gets stranger and stranger. Like I said, this is a prog metal band (or so they say) but this record has heavy metal and a little bit of Viking metal influences.
So I don't love the album, but I also don't hate it. It has a certain vibe that keeps you interested.  The band knows how to play, no doubt about that, but It's rather strange music.