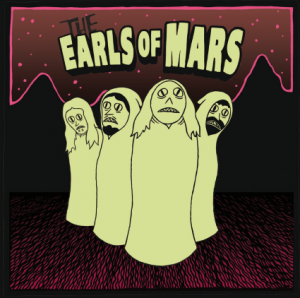 Release Date:
Sunday, November 17, 2013
After a decade of solo work under the monicker Onethirtyeight (a wacky piano 'n' keyboards based soundtrackish kinda thing with some very weird topics, either in lyrical or visualized context – check out some of those videos at (www.) onethirtyeight.co.uk – with four releases to its name : 2002's Case #6 EP, 2003's Bring Out Your Living EP, the 2006 The Sister EP-CD, and the 2009 full-length CD (+ DVD) London Transmissions), London-based Dan Hardingham suddenly felt the need to start something in a band configuration again.
So, somewhere in early 2012 he contacted his drinking partner & fellow festival campfire buddy Harry Armstrong (whom might be known to some for his work with End Of Level Boss, Hangnail, and Decomposed...among others, including Collapse, The Winchester Club, Rise To Addiction, Lord Of Putrefaction, and Firebird), and together the duo forged a campaign plan. Taking their name from a Onethirtyeight song (namely There's An Earl On Mars"), the duo recruited stand-up bassist Si McCarthy and drummer Dave Newman from a pub in the middle-of-nowhere, and started forging songs which were somewhat "out of the norm"! In October of that same year, the foursome got together at Earth Terminal Studios (somewhere in Hampshire), to capture a collection of ideas without any preconceived thought of what the sound should be like, and came out with the band's debut EP The Skies Are Falling!, which was self-released on Halloween.
The release led to the band's first gig happening as support to pioneering American Noise legend Boyd Rice (known from solo outings, his band NON, and some sparse collaborations – under the names Spell, The Monopoly Queen, and Scorpion Wind - the man has some 20 albums to his name since 1977 – he apparently also appeared in some 9 films). Somehow or other, Ben Ward (frontman of Orange Goblin) got a-hold of the EP, and he immediately invited TEoM to be a support act for his band's early 2013 UK tour. One evening, after a show on that tour, the band members of TEoM were deviated towards a 1977 Volvo 245DL, and came out the proud bearers of a recording deal (I guess we don't really have to put much credit to the supposed story, wherein the band members found themselves drugged, blindfolded, tied up, and consequently thrown into said car!?).
The three songs from the EP ("Cornelius Itchybah", "Poor Whores Petition" and "The Mirrored Staircase") were re-recorded, and got 7 companion songs for the album. Lyrically, the songs are every bit as weird as the material Dan produces in his Onethirtyeight project, but for a change Dan actually sings on most of 'em [exceptions being "Otto The Magnificent", "Some Place" (both spoken word tracks, the second done in German...and containing samples, odd sound fillings...and accordion, played by the bassist), and album closer "Mr. Osbourne's Hazelnuts" (being an instrumental shortie). Well, sings...let's say he contorts his vocal strings in somewhat "out-of-the-norm" ways, which are more than befitting of the lyrical content. Musically, each musician is equally important, although Dan occasionally just concentrates on his vocals. In other passages, you may find him playing the piano, keyboard, or synth. Of course, there's parts where the guitar is quite absent, yet overall one cannot deny a general Jazz influence going through the material. On the other hand, the songs are heavily Psychedelic, and elements of Prog Rock and Doom Metal also cannot be denied!
If things sound a bit weird, I can only advice you to have a listen to the three EP songs [when last I checked on this band's info (I've been trying to start on the review twice before, and each time my editor-in-chief came along with a new batch of albums to be reviewed, each batch containing priority releases), the EP was made available for listening in its completeness on the EP's bandcamp page, a link for which can be found in the "Music" section of (www.) facebook.com/TheEarlsOf Mars]. Also check the band's own page (www.) theearlsofmars.com, for a link to YouTube, or the band's upcoming gigs. I hear those are truly worth checking out. At any rate, if you are in any small way attracted to music which is both progressive, psychedelic, and somewhat unpredictable, I strongly suggest you dó check out this band...whose debut album herewith is catapulted into my "Best Albums Of 2013"-lists, forget nominations!!!