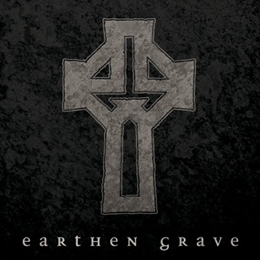 The septet, including two drummers, two guitarplayers, one vocalist, one famous Trouble-bass player Ron Holzner and one female violinist, Earthen Grave executes their music with much routine, you hear their experience, the compositions are flowing, the breaks well placed and the faster passages add nice dynamics.
Groovier and grittier than your old school doom and also more proggy and more variation in pace, Earthen Grave is a fascinating audio excursion. Eerie at times, doomy at others and folky/celtic when the time is right and featuring male vocals that are balanced between Hetfield and Bobby Liebling. Their debut is consistently entertaining throughout, burying the listener fully into the band's earthen grave with seemingly little effort. On top of this, there's a talented violin player who owns a melodic, varied and mostly very uplifting voice and is responsible for most of the solo's.
At nearly an hour, including three covers by Pentagram, Witchfinder General and Rainbow the CD does overstay its welcome a little but that's a minor complaint. For most of that running time, Earthen Grave delivers and that's really all that matters.