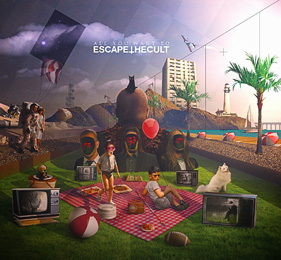 This studio project was started back in 2008 by bassist Peter G. Shallmin of the Siberian band Kamlath, his vision being an all-encompassing Progressive Metal audio/visual experience. Over the years, he not only managed to ensure the services of Igor Omodei (of Uneven Structure fame) for the visuals, but also those of some of the genre's high caliber musicians, namely singer Matthieu Romarin (of French band Uneven Structure), guitarist Mike Wead (of Sweden's King Diamond & Mercyful Fate) and drummer Tim Alexander (of the American Primus & A Perfect Circle).
As you might gather from the time elapsed since the project's beginnings, it's been a long ride, what with each component of the album having been prepared to perfection. Lyrics were collaborated on by both Romarin and Shallmin, and each addition to the music was scrutinized by both the participant and Shallmin. Eventually, Mead mixed and mastered the whole 7 songs (making for just over 36 minutes-worth of music). As a prelude to the album, a digital download for album track "I'm Absolute" was made available from June 30th of last, a video for the track posted at the band's facebook page (www.) facebook.com/EscapeTheCult, the "Music" section of which will currently re-direct you to the album's Bandcamp page (which should allow you to listen to more music, right?).
Expect the music to be somewhat calm overall (I refuse to use the rather negative term "sedate"), following Romarin's vocal stylings, expect it to somewhat minimal yet progressive and containing double guitar parts nevertheless, expect it to be somewhat different from your usual Prog Metal stuff. Expect...to be surprised, and possibly...to wanna get the album too? One thing though: since this was conceived as a goin' together of both audio and visual elements, I'm surprised not to find more videos posted. In a way, we can only hope those will be available in a cd-R part on the CD, then?