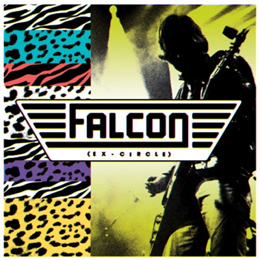 Release Date:
Friday, November 22, 2013
With their leading 7-inch single Beer And Ribs released well ahead of the album (3 months and a half ahead, actually), anticipation for the Falcon (ex-Circle) full-length debut had certainly been rising at Casa Tony... but I have not found myself disappointed with the result!
Nay, quite on the contrary, as it is a nice continuation of the slightly psychedelic atmosphere which was already present on the two single's songs, albeit in varying degrees of psychedelic touch and energy. Announced as an AOR album with slight Psychedilic hints, I would however want to diversify the AOR stamp put on the music by the musicians themselves. You see, where sóme of the tracks certainly follow in that AOR categorisation, other songs lean more towards a soft Hard Rock...which is nót the same as AOR...and in other songs the style is pure Rock 'n' Roll Hard Rock! Also, the overall intensities of the songs vary. From the more energetic "Beer And Ribs" to the almost balladesque "Bringers Of The Dawn" or album closer "Seasoned Girls"...the band goes through several moods, and undeniable tugs along some of its past into its current music.
As a further insight into the album ("Beer And Ribs" as posted earlier), the label now also posted the track "Partners In Crime" (another somewhat calmer track...without ballad flavourings though) at both its own site (www.) ektrorecords.com and at the label's SoundCloud page! Vinyl addicts, beware: a 12-inch will (have) be(en) released (through Ektro's subsidiary Full Contact Records) at the same time as the CD. Contact the label for info/ order!!!