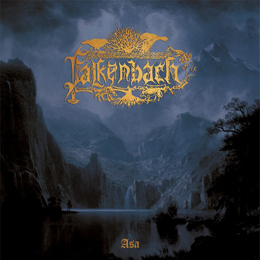 Gosh...considering that Falkenbach have been around since 1989, released 5 full-length albums prior to this one since 1996, and are a known entity within the Viking/ Black/ Folk Metal scene, I am kind of surprised to find this album come my way for review. Perhaps our specialist already had enough on his plate (as per usual, by the way!)?
In essence, the band is a one-man project (as far as studio recordings are concerned) revolving around one Vratyas Vakyas (real name Markus Tümmers), whom founded the project back in 1989 recording the first demo Havarnal (which consisted of 3 pure Folk songs, and of which only 9 copies were made), while still living in Iceland. A second official demo came with 1990's 3-track Tanfana, which was followed up by 1991's Towards Solens Golden Light (also a 3-tracker)...prior to Vratyas joining the band Crimson Gates as their guitarist (and recording two unreleased demos). That band fell apart in 1994, having played only two shows. During that same period two more demos were recorded under the Falkenbach monicker, but never officially released, and their titles have remained unknown to date.
In 1995 Falkenbach productivity went sky-high again...in fact no less than 3 demos [the 6-track Laeknishendr, the 2-track Promo '95 (issued through No Colours Records), and Asynja, about which I have no further info] which, in contrast to the first demo's calmer atmospheres, were mostly Black Metal oriented. 1995 also saw Vratyas start recordings for his debut album The Fireblade, but major problems in the studio resulted in the recordings being stopped altogether. But at the end of that same year things finally fell together, and recordings started for the actual debut album ...En their Medh Riki Fara, which was released in July 1996 through No Colours.
As chance would happen, the project was then noted by Austrian label (Oh...right...I completely forgot to mention that somewhere along the line Tümmers relocated to Germany, Düsseldorf to be exact) Napalm Records, who released the Falkenbach's next 4 albums, starting with 1998's ...Magni Blandinn Ok Megintiri... (which was followed by a 5-year hiatus during which Vratyas founded his own label Skaldic Art Productions (to aid young promising artists). With the arrival of 2003's Ok Nefn Tysvar Ty a directional change was noted towards the first two album (which were in essence Black Metal geared), as it included elements of Folk Metal (one of the songs even taking a passage from the Edda's Grimmnismál for its lyrics), Epic Metal, and Viking Metal, and the heathen background of the project for the first time was very prominent. Another change was that Vratyas no longer was the sole musician on the album, but got help from Vindsdal members Boltthorn (drums), Hagalaz (acoustic guitar) and Tyrann (backing vocals). Using the same session musicians, 2005's Heralding – The Fireblade included material which was originally intended for the never released Fireblade album, as well as some re-worked versions of demo songs. In 2006 then, Skaldic Arts Productions released a two-part (each limited to just 500 copies) tribute album entitled An Homage To Falkenbach, including 16 covers by a variety of bands including Eluveitie, Folkearth, Hildr Valkyrie, Hordak, Theudho, and Vinterriket...but basically things went quiet around Falkenbach again...
...until January 2011, when that very same line-up released the album Tiurida as the last fulfillment to their contract with Napalm. It apparently was the return to business-as-usual for Vratyas, and in late April of this year, the single Eweroun was released as a preview on the new album though his new label Prophecy. Weird that it took so long after all for the full-length album to come out, but that may have had to to with marketing issues, or stuff like that, you know!? Well, the album itself is really a continuation of what already transpired on previous work : Folk Metal tracks being alternated with Epic Viking Metal and Black Metal tracks, and with vocals varying from clean (mostly on the Epic and Folk tracks) to screamed (reserved for the more Black Metal geared tracks). Funny detail are the lyrics themselves, which may come in English, Norraena (old Icelandic), and old German (I'm not sure whether Latin – which has been used on previous albums – is also present here).
Regretfully I could not log onto the band's website (www.) falkenbach.de, so I cannot tell you whether you'll find any of the band's latest music there, but the songs "Eweroun" can be heard at (http://) soundcloud.com/victor-leson-cellule-morte/falkenbach-eweroun-lyric-video, and the actual lyric video can be viewed at (www.) angrymetalguy.com/falkenbach-asa-review!