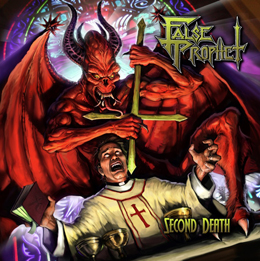 False Prophet American band founded in Greenboro, NC at the 80's.A trash /death metal group with members: Chris Lyndon (Bass), Tim Haisman (Drums), Mike Morrison (Guitars) and Paul Ray (Vocals, Guitars).
"The Second Death" a sort best of number from their first demo cd "Sign of the Cross (1989)", All the numbers from "The Second Death (1991)" and "Murder or Mercy Live (1990)".
You can hear that the mixing is much better than the original. Much finer more produced and remixed by Jamie King, producer of bands such as Between the Buried and Me. They released on cd, digital download and on 2 12" vinyl LP. The album sounds more death than trash but the balance is there. Nice re-mastering of the original with 2 songs more than 10 minutes. An album you must buy, great guitar riffs and a nice creepy voice. At last the attention of an label the deserved.