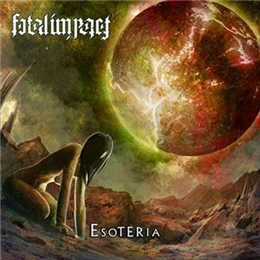 Fatal Impact's humble birth was around a decade ago. The band hit stages all around Norway with their forceful, pounding, dark yet illuminating music. The band released their self-debut album "Law Of Repulsion" in 2008.
The album begins mid-tempo numbers like "Where the Alders Grow" and "Silent December" are slightly boring. "End Time Theater" includes bright shredding solos, "The Blind Man's Eye" is very heavy and aggressive song.
"A View to Hell" is another decent up-tempo song. The beginning of "Under the Stars" reminds me at the famous "Fear of the Dark" (Iron Maiden) but then this song continues in different and more dynamic manner. The final number "Funeral" is for me one of the best tracks on this album. It is very impressive song, varied and catchy, with interesting bass lines and nice keyboards parts, especially organ ones. "Esoteria" is a very strong album with many interesting moments. Fatal Impact is a promising band and musicians could record a really worthy CD. A must have for fans of dark Progressive and Heavy/Power Metal.