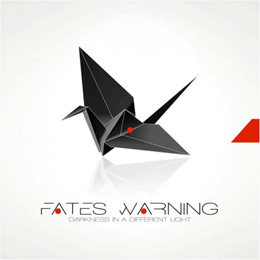 Album Title:
Darkness In A Different Light
Release Date:
Monday, September 30, 2013
With this new album, the original Prog Metal masters make a close to a near-decade hiatus in studio recordings. Indeed, the band's previous studio recording dates back to 2004's Fates Warning X, and following the promotional touring of that album the individual members (vocalist Ray Alder, guitarists Jim Matheos and Frank Aresti, bassist Joey Vera, and drummer Mark Zonder) had something like an unspoken agreement to give the band a break, without actually allowing the bandname to grow out of people's memories, by putting in a yearly handful of gigs, whenever the guys' combined schedules allowed for it.
Zonder, having stated that FWX would be his last album with FW, would actually leave the band in 2005 in pursuit of different musical avenues, and was replaced in 2007 by Bobby Jarzombek. 2005 also being the year when FW saw the release of the live album (also issued on DVD) Live In Athens, and a re-release of their 1986 album Awaken The Guardian (in a box set also including bonus material in the form of a bonus CD with demos and live recordings, and a DVD with a complete concert). Meanwhile, Matheos focused on the side-project OSI, which he'd started with former Dream Theater keyboardist Kevin Moore. He also helped out original FW singer John Arch to put together the latter's debut solo EP A Twist Of Fate. Alder from his side, put his focus on the bands Engine and Redemption. 2007 saw the re-release of the FW albums Inside Out (1994) and Disconnected (2000), in a combined package with bonus tracks. 2010 saw the re-issue of the band's 1991 Parallels album, and the band playing a select amount of gigs in that album's line-up including Alder, Matheos, Aresti, Zonder, and bassist Joe DiBiase (the band's original 4-stringer). In other words, although the band had not been too present over the last decade, it wasn't uite completely out of sight either.
Writing sessions for this new FW album actually started in 2009, but for a variety of reasons the stuff just didn't work out for the band. The sessions weren't a complete waste though, as some of it was later used as basis for 3 songs on the 2011 released self-titled Arch/ Matheos album, which not only saw Arch and Matheos reunite once again (they were after all the founding members of FW), but also got participation from Aresti on additional lead guitar, Vera on the bass, and Jarzombek on the drums.
With Darkness In A Different Light, FW musically returns to an era before FWX (which showed some more ambient moments due to the use of extra keyboards – something most definitely inspired by Matheos' work for OSI). Expect music which combines instrumental prowess with serious songwriter-ship. In other words, the songs are more important than showing off...the way it's always been with FW. Also expect some darkness in the music (eheh...that goes along with the album title, don't it?), but also expect a further progression in the music overall. In the "Media" section of the band's own website (www.) fateswarning.com, you'll find a link to the band's YouTube play-list in the subsection "Videos", comprising the video clip for the track "I Am", a music clip for "Firefly", and an album samples music clip. Of course, people not having heard of this band before (ahum...!!!) can always check out further sites, but anyone ever liked this band can just simply go out and get themselves the new album, period!
As we speak (and that's in part due to my getting the promo download of the album so late), the Connecticut based American band has already finished a European tour (done in October) and has already crossed back to their side of the Atlantic Ocean, for a US tour which lasts until Dec. 14. If you're in the neighborhood of the shows, dó go see the band! Meanwhile, all I'm left to do is to elevate this album to a nomination for my year-lists, and hope the guys don't wait another 9 years to come along with the next one!