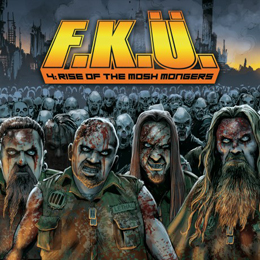 Album Title:
Rise Of The Mosh Monsters
"F.K.Ü." stands for "Freddy Krueger's Ünderwear." And is also the name of the band that wants/needs to rid the world of everything but horror and metal. The band came into existence back in 1987. In those days they were more or less pure S.O.D. die-hard disciples, but not much later they went into an hiatus for several years. So upon reading their very limited bio I immediately thought this was in the same way as Rob Zombie. So I expected strange music with lyrics based on movies and horror stories.
However I couldn't be more wrong. This sounds more like a German trash band (for example Kreator) So its somewhere a nice surprise, because this is some fine trash metal, but on the other hand I miss the show effect that these guys promised with their album art and website display. Maybe they have an act live? Either way it is a record definitely worth listening to.