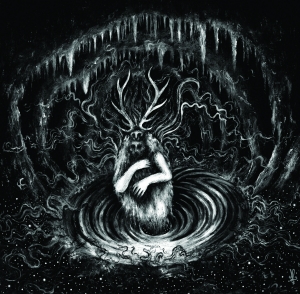 This split-album, Void Asceticism, joins two great acts in order to illustrate 'moral collapse, soul sacrifice, eternal oblivion'. I know, it makes me happy too…
The 12" vinyl stuff was released in an edition of 500 copies on 'regular' black vinyl (140g, you know), and each band present three tracks, clocking the whole experience to half an hour.
---------------------------------
Side A consists of three tracks by Canada's Garotting Deep, a band known for several split-contributions (with the likes of Ominosity or Hlaut). They represent the new age of Morbid (old styled) Death Metal, yet with an even more obscure, ominous and asphyxiating approach than we're used of. Ævangelist came to mind almost immediately, but Garotting Deep delve, if possible, even deeper into underground dimensions of some unhealthy symbiosis of ultimately sonic torture and un-dreamy pleasance (if you do understand what I mean, please inform me, for I lost myself right here…). No, seriously, this kind of material sort of typifies Iron Bonehead's roster, and once again the result is of a superb / superior / supreme quality! It goes far beyond the 'classic' sound of aural darkness, it implements both tradition and creativity, with the necessary changes in tempo, with the necessary dense sound quality, with the necessary equilibrium in between atmospheric melodies and pounding rhythm structures, and with the necessary dose of craftsmanship (the fabulous vocals aren't but one detail).
Unexpectedly grandiose is the band's interpretation of Wardruna's Heimta Thurs. This version sounds oh so oppressive and haunting and, despite differing quite a lot, approach-wise, from the original track, it is such pleasure to experience such glory!
98/100
---------------------------------
The B-side has been created by Swedish act FŌR, one of the greatest surprises I came along in 2013! Back then I had the opportunity to enjoy the Blakaz Askǭ Hertô recording (the review was posted on December 17th 2013), and I did end my review with 'I want more! Soon!'. Now it's time… Apparently there was a split-EP last year (with UK-based She'ol) via the very same label, but I sort of missed it (but I'll search for it for sure!), but let's focus on this release.
FŌR too represent a typifying form of Morbid Death Metal, courtesy of this splendid label, but these guys sort of replace haunting atmospheres by a brutalized grimness, including a sound that is rather industrialized, and a tempo that sort of flirts with dimensions of Funeral Doom at the one hand, including semi-grinding outbursts at the other, though these ones being the exception of the rule. I think it sounds less disturbing and noisy than 2013's demo, yet still the result is like a dangerous mind-play, one most listeners cannot win.
95/100
---------------------------------
I know that I cannot hide my (not that) secret passion for Germany-based Iron Bonehead Productions, yet with this split I think they really make me come, over and over again. So, if you're into stuff à la Portal, Ævangelist, Harvest Gulgaltha, Abyssal, Dwell and the likes, then you just NEED TO get this material!