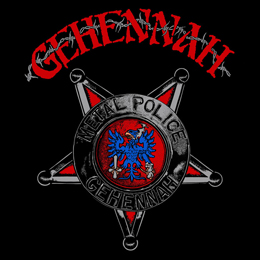 Originally released as a four song seven inch by Lightning Records in March of 2014, Gehennah's Metal Police saw a bulked up reissue by Metal Blade Records in Feb of 2015, which is the band's first release for the label. In addition to the original four tracks on the seven inch, the newly issued Metal Police features eight bonus tracks, which mostly consist of re-recorded tracks from the band's earlier full length albums, King of the sidewalk and Decibel Rebel, along with two unreleased songs.
When I listen to the album I have to say that the lyrics are not very overpowering, but ok I do like the music. The original tracks all follow the same path, it's over in ten minutes but it's a pleasure for the ears. The title track and a cover of "The Dwarves" "Fuck Em All" are especially pleasing. For me there are no highlights more.
It's a short but enjoyable EP but I wouldn't run to the store!