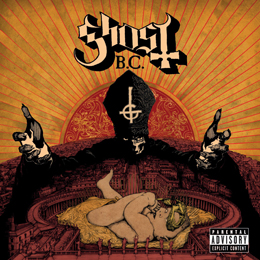 On February 5, 2013, the band announced their name change to Ghost B.C.in the United States due to legal reasons. Discussing the name change, a Nameless Ghoul said 'B.C.' is obviously a pun on 'Before Christ', but it's just an amendment. In our world, we're just gonna be called Ghost, and when we refer to our records, it's gonna be the Scandinavian version, saying Ghost only, and we are never ever ever ever ever ever gonna call ourselves Ghost B.C. in any way. concluding with The 'B.C.' is silent, and as soon as we can, it's gonna be taken away forever. (wikipedia)
So here you have it, it's Ghost B.C. in the US and all over the universe Ghost. Who am I to argue, so it's Ghost. I was duly impressed by the delightful musical potpourri that Ghost released as Opus Eponymous last year. Well, now two years later they have returned with their second effort Infestissumam and they prove that they are not a one-off thing, but actually take up where they had left off and with time comes more refinement and a fairly firm settling into their niche.
Ghost can been viewed as a cross between old Mercyful Fate, Blue Oyster Cult, Alice Cooper, Type O Negative, Depeche Mode, Abba (they even cover "I'm an marionette", ) and T Rex. The title track intro and "Per aspera ad inferni" acts as a nearly perfect introduction to the album and the band, showing off the band's sharply-but almost poppy honed guitar sound as well as Papa Emeritus II in prime cozy form. Though somewhat incomplete in execution, the longest varied track "Ghuleh/Zombie queen" with a swinging Dick Dale-piece is definitely a mid-album ear catcher. Among the better tracks we find "Year zero" with Gregorian chants all over the place. Most of the heavier darker tracks such as "Depth of satan's eyes" and "Monstrance clock" appears on the later half and are centered around semi-sinister atmospheric moods. Regardless of the lesser songs on the album, Infestissumam at least never grows dull, even though the urge to skip past a couple songs ("Body and blood" and "Idolatrine") is prevelant.