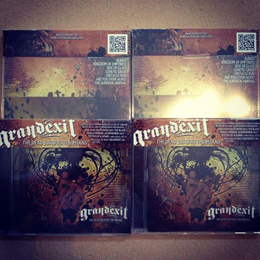 Album Title:
The Dead Justifies The Means
GrandExit has a new record and that is something to be overjoyed with. The new one is entitled The Dead Justifies The Means and is full of memorable guitar parts and an impressive song structure. The band, previously known as Vicious, pounds through the album and quickly tries to settle in your ears. This is the first impression you get when starting to listen to the record.
Unfortunately, after a while, its fierceness decreases. The inventive aspect is replaced by more groove and the guitar riffs aren't as original any more as in the songs The Striven and Lost At Sea. Luckily, the death metal aspect remains in full effect and therefore, it stays interesting for the listener.
Conclusion: strong beginning, poor ending. But still, a real death metal fan won't be disappointed with The Dead Justifies The Means.