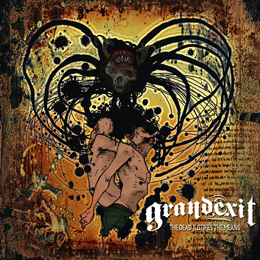 Album Title:
The Dead Justifies The Means
Grandexit is a Swedish metalband witch has been around for over 13 years and comes from the town of Västeras. Here in the midst of Sweden these chaps grew up and wanted to make innovative and melodic extreme metal. But before they played under their current name, they called themselves "Vicious". Under that banner, they released 2 albums. 2010 marked the birth of their present name, and later on they released their "first" album.
After nearly two years of touring, the guys went into "Ghost Ward Studios" with David Castillo to begin recording their sophomore album "The Dead Justifies The Means". And to just be fair and honest, this album didn't convince me. I couldn't listen to the end of it. And it's not that these guys don't do their best, anyone can hear they are skilled musicians. But the songs are so strangely composed and seem to go nowhere.  
Perhaps it is this genre, but I love melodic metal, especially from bands out of Sweden. But this sounds rather weird in comparison. And I know that it isn't fair to compare, but yeah this is not an album for everyone.