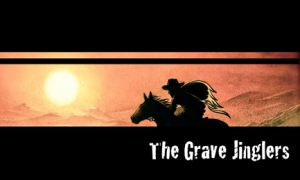 Cripey...I don't know why I even bother starting this review. I mean, how would you react when, after having spent three quarters of hour in research on a band which released a 4-track EP already 9 months earlier, you suddenly find out that what you're sent is just the one song off that same EP? Would you toss the thing in the garbage can, and wait for a next release on which you find out the band is working? Hum...I guess I have more journalistic integrity than that! But I usually insist on at least being given a good representation of a band's material, before reviewing it. Hence, find this review coloured with doubts!
This band from Farmingdale in NY State consists of Tom "Doc Reinhart" Piscitelli (lead vocals, guitar, songwriter), Charlie "Raw" Rauh (lead guitar), Tom "Nabbs" Knabbe (bass) and Joe "J.R." Rende (drums, backing vocals), and according to the info sheet that we got along with the download of that one song (entitled "(Thief Of The) Midnight Sun"), they were "established in 2013", which seems a bit odd to me, as the band's facebook page was opened in May 2011! I can only assume that the current line-up was established in earliest 2013, right? Together, these musicians conspire to bring an "Alternative Rock"  which "...is coloured by Country, Blues, and Jazz..."! The Country part...and take that Blues bit as well...is confirmed by that track at my disposition, but that did not reveal any Jazz influences at all. How strange then, that with this description in mind, the top of my info page mentions this band sounding like The Doors (oh-kay, check!), The Band (hum...check!), The Beatles (uh?...well okay, check!?), and Red Hot Chili Peppers & Radiohead (wh-wha-what!??).
Well, this is where I throw in the towel. If you feel like it, you can go check what the other three songs on the EP sound like, as the band posted 'em all in the "Music/ Profile" section at (www.) facebook.com/thegravejinglers. I know...you're saying to yourself, that if those songs are so readily available why don't I go check 'em out anyway? Well, heck, one has its principles, you know, and besides...I don't have Internet at home, which is where I'm writing this review! No idea what this band is up to next, or whether a new release is following soon, but here's a good piece of advice : next time send us your release in its completeness! How else can you expect a fair review? Rating is based on the (really very high-standard) quality of the one song I've heard.