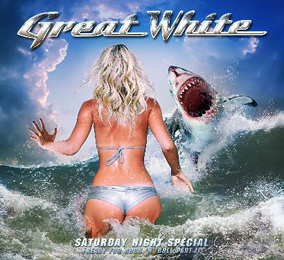 Great White has pleasantly surprised me with this album.  Not only does it contain 3 songs of their own, among them 'Once Bitten, Twice Shy' and 'Rock Me', but it also gives us 12 covers of other bands, the one even more famous than the other.  To my opinion, but who am I, there is ons song too many though, and that's the last one 'Blue Christmas' a song originally sung by Elvis Presley.
But the other ones, well, there are some songs that I'd dare to say that Great White brings us an even better version than the original; Just listen to 'Keep Your Hand To Yourself', a song that was already great in The Georgia Satellites original version, but that sounds even steamier in this version.
And there are even some songs that I was very amazed of that Great White did a cover version of, like Motley Crue's 'Kick Start My Heart'. If you're a Great White fan, and would like to hear them bringing some not so common stuff, this is an album you ought to have.  And even for non-fans, who like to hear some great, bluesy rock'n'roll, this is an album you ought to give a try.