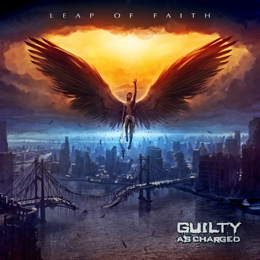 Aha...Belgium, Heavy Metal and Thrash as elements which combine wonderfully well in the mind of our editor-in-chief...and I guess that's why he trusted the review of this West Flanders based quartet's debut full-length onto my relatively capable shoulders? Well, at least I always give things my best shot. So, let's start by checkin' out this band's history, shall we?
Back in late 2007, singer/ rhythm guitarist Jan De Vuyssere and Hannes "Heinz" De Caluwe got together to found the band, the line-up of which they completed by first finding the tower-house kick-ass drummer Matthew Vandenberghe, whom had already played in a couple of bands before (none of which I found info on, so perhaps they were small local outfits after all?). Before the end of 2007, the band was completed by the addition of lead guitarist Dempsey Derous. Together, they started rehearsing a set of songs, the sound of which would best be described as a Heavy Metal with Thrash elements. For some time there (2008-2009), the line-up also included lead guitarist Thomas Verleye, but I' not sure in which capacity (did he merely temporarily replace Derous, was he enlisted to relieve De Vuyssere of his rhythm duties so he could concentrate on his singing, or was he in fact recruited as third guitarist...I have no way of finding out at this time!). In the summer of 2009 then, the band secluded itself in a studio, and came out with 5 decently recorded songs which they released in September of that year as their debut EP Boxed In. On its release night at the O.C. De Kleine Beer venue in Beernem (the band's hometown near Brugge), the guys sold out all of their merchandise, and since then, the band has played support slots with the likes of Soulfly, Helloween, Death Angel, Channel Zero, Pro-Pain, UDO, and played at the 2011 edition of the Alcatraz Metal Festival and the 2012 Masters @ Rock (the latter two occasions constituting the biggest crowds the band played for thus far). During 2013, the band members not only put their creative minds to work, but also combined their financial resources...the result of which payed off in unleashing their debut full-length upon the not-so-unsuspecting world (I cannot say I really didn't hear about the band before, as I'd heard rumours about 'em through the grapevine)!
Expect a very nice Heavy Metal with both slight Progressive and Thrash flavourings, typical "Thrash" vocals (but with a soaring quality...and backed up almost harmonically), and really nice sound quality overall! Now, as the band's own website (www.) guiltyascharged.be is currently under construction, you'll have to make due with what's posted at their facebook page (www.) facebook.com/pages/Guilty-As-Charged/73401643876, which is three songs off their EP, and a video for the album's song "I'll Never". The guys also have a page at SoundCloud and Myspace (links to be found at the facebook page), and maybe there's more recent material posted there (just check that out for yourselves, will you?). As an alternative, you might call on the band and find out when they're playing at a venue near your own homestead, eh?