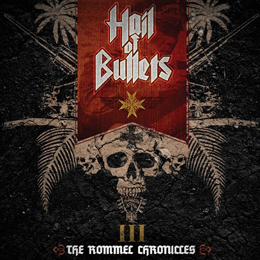 Release Date:
Tuesday, October 29, 2013
Hail Of Bullets (2006) Dutch death metal band featuring GOREFEST drummer Ed Warby, THANATOS guitarists Stephan Gebédi and Paul Baayens, vocalist Martin Van Drunen (HAIL OF BULLETS, PESTILENCE, ASPHYX) and former HOUWITSER bass player Theo van Eekelen.
In 2012 the band started to writing their third album, which sees the band approaching things a bit differently lyrics wise. This album focuses on the military life, rise and fall of German filed marshal Erwin Rommel. Punishing death metal from some dutch guys who knows how to make this kind of noise. Great solos, Perfect melodie and the raw voice from Van Drunen. But I miss the atmosphere like their previous album Imperial Anthems. All the songs are mainstream not one song that get me in the sphere of the war. Except the last number you can hear the fall of a marshal.