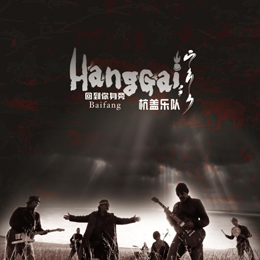 You might've heard about this Chinese Folk/ Folk Rock band recently, as they've been on a short European tour to coincide with the release of their third album, Baifang, playing select venues in the UK, Holland, Belgium (the AB Club in Brussels), Germany and Denmark.  And if indeed we're able only now to post the album's review, please keep in mind that we dó review an awful amount of albums, some of which take precedence over the others for a multitude of reasons (business-related, or because a hard copy was sent to us).
Anyway, based in Beijing, this Chinese has the peculiarity of advocating the Mongolian way of live, as once was, and using authentic instruments...but frequently mixing the whole with modern influences, which come from the band's leader, singer and tobshuur player Ilchi (real name Yiligi), having played in Beijing Punk band T9 prior to discovering the typically Mongolian sounds of throat singing. Captivated by that specific vocal art, he felt the urge to rediscover his ethnic heritage, and therefore traveled to Inner Mongolia in order to learn singing in that style (while at the same time having to re-learn the Mongolian language, by the way).
It was there that he encountered band members Bagen (real name Batubagen, singer and a specialist on the morin khuur – note: the morin khuur is a two-string violin; the tobshuur is a mongolian lute) and Hugejiltu (whom has since left the band), and made a pact to put Mongolian music back on the global map because, as Ilchi stated in an interview on Chinese radio station NPR, "Most of our people have moved away from the old way of live..." (therewith not meaning Genghis Kahn days, but rather: living out on the plains and steppes, and the ethic that go with it), "...After moving to the cities, many of us have gradually been subjected to a very strong cultural invasion by an oppressive culture. So this traditional music has completely lost its space!". With these two musicians as a foundation for the band, additional musicians were found in Ilchi's surroundings when the trio returned to Beijing, where the band was officially founded in 2007.
Their debut full-length, entitled Introducing Hanggai was released in July 2008 on the World Music Network, and found the band not only using the vocal art of throat singing and the typical Mongolian instruments, but also making use of electric guitar and bass, banjos and computer programming, in order to create a sound with a modern touch. According to Ilchi (again from an NPR interview), Western artists such as Pink Floyd, Radiohead, Rage Against The Machine, Secret Machines, Electralane and Neil Diamond have played a big role in shaping the band's music. Publicity around the album's release, allowed the band to perform on stages outside of China, including 2009's Zwarte Cross (Holland), where the band's song "Jiu Ge" ("Drinking Song") was hailed as "Zwarte Cross Song 2009"...and 2010's Wacken Open Air. On account of their second album, the October 2010 released He Who Travels Far, the band traveled even farther and beyond (no pun intended), performing at 2011's Sydney Festival in January, at Manchester, Tennessee's Bonnaroo Music & Art Festival in June, and at the Woodford Folk Festival in December.
No idea what took the band so long to write/ release their third album, but I'm guessing that, having taken several song ideas from actual Mongolian Folk songs at an early stage of the band very quickly, the guys had to dig a little deeper into the Mongolian heritage song catalog. Also, of course, 2012 was a very busy year touring, as people all over the globe were wanting to see this quite innovating band (additional notable festivals attended include Roskilde, Lowlands, Fuji Rock, FMM, The Chicago World Music Festival, and Sziget). Anyway, as if to apologize for their absence from the studio, the band recorded no less than 18 new songs for their third album...good for no less than 73 minutes' worth of listening pleasure.
There's of course a couple of shorter songs, not incidentally three a Capella vocal tracks...in fact mantras, two of which open and close the album. In between, you get an exciting mixture of Folk and Folk Rock tracks, with an apparent focus toward the latter in the first part of the album (which can be seen as separated from the second part by the third mantra track). No doubt, people who are more into Rock will prefer sngs such as the album's title track "Baifang (Back To You)", "Hershut Hero", "Tavan Hasag", "Hong Galou" (which are all on the first part of the album), and "Beautiful Mongolian Horse" (in the second part), but I'm sure they'll grow to appreciate the songs in between as well (in the second part of the album, by the way, there's also still the Reggae tune "My Mother"). A funny thing, is the occasional reminiscence of Western Music álà Ennio Morricone...in fact, if Ennio had been a Chinese, you know...! On listening to the album, one might conclude that in many instances the music is very Chinese, but that should not really be a surprise. On the one hand, some of the Mongolian musical heritage is bound to have wound up in the Chinese and, more importantly, as Iching has stated himself in an interview, the guys were all born in modern days, a couple of generations after the foundation of the People's Republic of China in 1949 which dominated every aspect in life, including music...and musicians are bound to be influenced by what music is played around them.
On two...nay thréé songs...the band makes use of additional female guests, for female vocal on the songs "Miss daughter (Missing You, My Daughter)" and "High Trees", and to play a sitar-like instrument on "Baifang"...which is something I learned by checking out the many videos of the band on YouTube! In fact, if I'm to advice you about where to find music by this extraordinary band, I'd say you're best off using your browser with "Youtube and Hanggai". The result should give you a series of official videos and live recordings, enough to convince any doubter of the qualities of this band! Personally, I am found utterly convinced...in fact, the band has become a new favourite of mine, and I certainly hope to be able to still add band's first two albums to my collection. As a logical consequence, I'm adding Baifang to my 2014 year-lists!