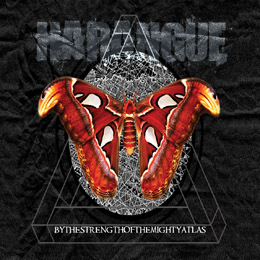 Album Title:
By The Strength Of The Mighty Atlas
This Toronto based Canadian Metallic Hardcore act was founded in 2011 by singer Michael Kopko, guitarists Dave Caporale and Danny Panzini, bassist Jules Parris, and a drummer whose name I was unable to retrieve.
In that original line-up (?) the band recorded a first demo entitled Feeding The Wolf, after which they enlisted drummer Selvin Cunningham (I'm afraid I also found no data on which the replacement took place, nor about when the demo was released). And with the latter in place they recorded their first 5-track EP Battle Not With Monsters in the Fall of 2012. That one got released on Jan. 1st of 2013, and as gar as I can ascertain Cunningham had already left the band by then. No idea whether another replacement drummer was present in the band in between, but he did contribute to the drum patterns of new songs, and when the band reconvened in the studio next (to record this-here EP), it was with drummer Masazumi Mitsuno in the line-up, the latter having also contributed to the writing process of one of the 7 new songs (he apparently left the band since – no idea whom has succeeded him).
Having listened to the material prior to checking the info sheet, some ideas had already been floating into my mind as to its contents (of the music, that is), and it was therefore with some surprise that I found said info sheet relating the short songs "The Solidity Of A Ghost" and "The Engine 2.0" to a kinship with the likes of Botch, Coalesce and Narrows, while describing the longer though more straight-forward and mosh-riffing "Empty Mouth" as something resembling early Norma Jean...because those were exactly the thoughts that had gone through my mind (well, in all honesty : it was the case with the first two mentioned songs, and reading the evaluation on the third actually settled a though that was already ripened, but not yet set to "author" - If you get what I mean). The other songs, however they may be written in styles akin to the ones mentioned before, have a touch all the band's own, and sets the band apart from the copy-cat category of bands.
According again to the info sheet, the band is determined by a strong will to infuse a creative and aggressive attitude back into the Heavy Music scene, and essentially their "mission" is to carry the torch for innovative and aggressive music that was lit by such pioneers as Bloodlet, Deadguy, and Coalesce. As far as I'm concerned, I feel they have every right to. To convince yourselves of that, check out the band's music (both EP's) at (www.) harangue.bandcamp.com!