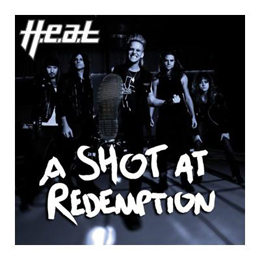 H.E.A.T. exists since 2007, and despite losing their original singer who left the band, continue to score success after success, especially in their homeland and it's surroundings.
While working on their new full album, which will soon be released, these guys offer us a 4 track EP.
It opens with 'A Shot At Redemption', a very catchy track, immediately followed by 'Under Your Skin', also a quite agreeable track.  Follows a good acoustic song 'In And Out Of Trouble'.  But the surprise sits in the tail, under the form of a cover of 'She's Like The Wind'.   I would have given this EP a very good score, were it not for this one cover. I already hated the original version by Patrick Swayze, and this cover version does not alter my opinion.