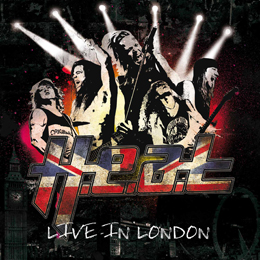 Release Date:
Friday, February 20, 2015
Having so far released 4 full studio albums, this is the first live album by this stunning band, recorded live  at the Garage in London on16th May 2014 during their first ever headline tour.
And despite not being a big fan of live albums, this album made me smile.  Is shows this band in it's full pride and glory, bristling with energy, in front of a enthousiast crowd.  The sound of the album is big, almost as if it was captured in a big arena.  The sound is crystal clear, and of course the songs are excellent, and it's almost as if live they sound even better than on their studio albums.
The album contains 15 excellent songs, among them their latest single 'A Shot At Redemption' and clocks off with a playing time of (only) 67 minutes. A Highly recommended album for fans of genuine Scandinavian AOR 8