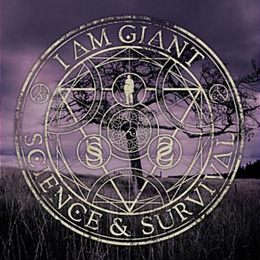 Release Date:
Monday, November 24, 2014
I Am Giant is a band I'm not familiar with, but as it turns out they have already toured with Slash, and have played numerous gigs all over the world .   The band was formed in 2008 in London, and released their debut album 'The Horrifying Truth' in 2011', album that became the highest selling rock album of 2011 in New Zealand  (Kiwi's must have liked them a lot…).  Despite being a band being formed in London – UK, there was only one Brit in original the line-up, whereas all the other are from New Zealand.
Having grown up with old school metal and hard rock, in a time when all the sub-genres were not yet invented, or at least we didn't have names for all of them, it's a bit hard to call this metal nor hard rock. I'd rather call this alternative rock or even alternative progressive rock.
That being said, it is a nice album, that surprised me a lot.  It took some time to grow on me, having some more experimental sounds that I'm not accustomed with, but despite that it's a good rock album.  Not that I'd immediately be tempted to buy it, but like I said before, after a few spins..you either like it, or still hate it.