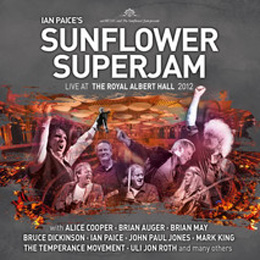 Album Title:
Live At The Royal Albert Hall 2012
Release Date:
Friday, February 27, 2015
What started out as a private charity event, organized by Deep Purple's Ian Paice and his wife Jacky Price  was opened to the rockfans in 2012, resulting in a performance in the prestigious London's Royal Albert Hall. The musical guests on this venue were beyond par.  Besides Ian Paice himself, there were contributions by Bruce Dickinson, Alice Cooper, Uli John Roth, Brian May, but also some more 'eclectic' musicians like Mark King (Level 42). Together these musicians played a score of songs from different groups, among them of course some Deep Purple songs, but also numbers from Alice Cooper, Thin Lizzy, Rainbow, Level 42, culminating in an all star performance of Deep Purple's 'Smoke On The Water.
This is  a type of album that should please everyone, being a collection of classic songs, brought to us by a score of outstanding musicians.