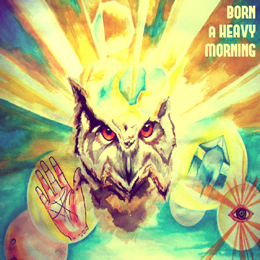 I have had this CD for a while, but failed to write an immediate review on it because the band is so hard to put your finger on.
Fans of doom metal/sixties psych acid music (?) take notice, if you haven't heard of Boston's Ice Dragon you need to take immediate action. Despite not exactly being a household name this is one band that has been around some time. Well, since 2010 anyway ever since that time the band has toiled on, contributing their own take on the heavy psych doom genre, notching up a total of nearly ten releases under their collective belt. Take a look on icedragon.bandcamp.com and if you're a Sabbath-Sleep-Electric Wizard addict listen to their debut The burl, the earth, the aether which is a true doom classic.
Take a bit of Dead Man-era Neil Young, Syd Barrett, Chocolate Watchband, Sebadoh, early Danzig,…and Black Sabbath shake them all and put them in a psych environment and you'll have and idea of Born A Heavy Morning.
The catchy "Wakin' up", driven by great guitars and near drunken vocals, gives the album the perfect start. At  "In which a man rises, washes and eats before work", "In Which a Man Daydreams About a Girl from His Youth", " In which a man ends his his workweek with a carouse" and  "In Which a Man Takes Aftertoon Tea and Curses at the Clock"  we hear pleasant dreamy blurry psych with Syd Barrett's influence noticeable here.Though these guys share an interest for lower frequencies they don't forget to write proper songs. There's a dark and brooding atmosphere throughout "The past plus the future is present" and "We are the hopeless", the antithesis of sunshine-flower pop. "Square triangle" is haunting while at the same time beautiful. Melancholic in places but a pleasing melancholia. The vocalist, whose voice isn't strong on it's own, fits these tracks beautifully, inflecting feeling, subtelty and nuance into every track. The last song "I'll watch my hair grow" never comes and bangs you over the head but instead it insinuates itself into your head.
The whole package is made even more attractive by the gorgeous packaging in which the CD comes; hand printed, numbered and kraft gatefold digi sleeved that was commissioned by Belgian's label Navalorama exclusively.