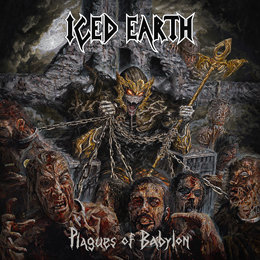 Line-up:
Jon Schaffer – guitars
Stu Block- vocals
Troy Seele- guitars
Luke Appleton- bass
Jon Dette- drums
It's finally there: the second 'Iced Earth' album with the new singer 'Stu Block'. The album was originally set to be released in October 2013, but was pushed back due to Iced Earth's tour commitments in the fall. The expectations were high with the fans and critics. 'Iced Earth' was searching for their selves in their previous albums, but with the coming of the new singer 'Stu Block' they filled in the expectations quite well.
The first song is also the title track of the album, it's an almost 8 minute's long song that kicks in with a sort of marching drums. When the guitar riffs begin you instantly want to nod your head along with the music and it takes you away on a journey of the 'Plagues of Babylon'.
'Highwayman' is a cover of the song originally done by Willie Nelson, Johnny Cash, Waylon Jennings an Kris Kristofferson. They did a great job. The album is full of very powerful songs with heavy riffs and pounding vocals typical to 'Iced Earth'. The message is clear: Together we stand!
'Iced Earth' is all about emotion and aggression, if you listen to the lyrics you will hear that there's a certain theme around it. The lyrics are mostly about a certain injustice and a hero that's out for revenge. Sometimes the hero fails in his task to bring justice and he has to admit that he has lost the battle to make things right. That is why the songs are so intense and varied in emotional and heavy songs.