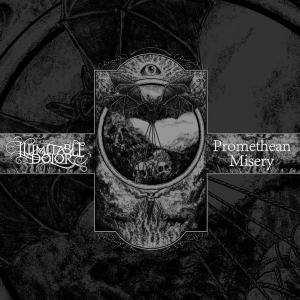 Album Title:
Illimitable Dolor / Promethean Misery
Release Date:
Monday, February 11, 2019
This review deals with an untitled split release in between two excellent projects from Down Under, Illimitable Dolor and Promethean Misery. The material is available via digital sources and on compact disc, which you can order via their Bandcamp pages. The latter comes in an edition of 500 (few hand-numbered) copies.
And what a splendid cover artwork!  This is the work of Indonesian artist Varises Otak, who painted some cover artwork for releases by bands / projects like Vainaja, Karkosa, Final Curse or the newest Illimitable Dolor album.
The first two tracks are written and performed by Illimitable Dolor, a band from New South Wales that was formed almost five years ago. Illimitable Dolor once started as a trio yet have grown into a six-headed orchestra in the meantime. They had a first untitled album, released in 2017 via India's finest Transcending Obscurity Records (run by the extremely sympathetic guy Kunal), and recently there was a second full length, called Leaden Light, released via the very same label. But you might also know them from their cool cover versions for tracks by Skepticism, Paradise Lost or This Empty Flow. Their side of this split was mixed by vocalist / guitarist Stuart, and it got mastered by Kurt Neist, who also worked with, for example, Claret Ash, Tyrannic, Orphans Of Dusk or Promethean Misery before.
As you know, Illimitable Dolor perform a rather traditional form of old styled Doom-Death Metal with a melancholic and somewhat funereal twist. The five-piece play an emotional and bombastic form of Doom-Death, and okay, it lacks originality, but the quality of this band is of such high level. So, originality is, like I stated a thousand times before, of superfluous weight once again. It's the qualitative result that counts. And what about this 'quality' right here?
Kitsune, the first composition (clocking about seven minutes), opens with a riff that immediately expresses the atmosphere and the trend, soon joined by more string work, typifying drum patterns and dreamy keyboards. No doubt that these guys are inspired by the universal scene from the Nineties! All ingredients are represented: the massive rhythm section, with those adventurous drums, the sad-sounding solos, the gloomy synths, the abyssal-deep grunts, the melodic structures, the few changes in tempo (from very slow to very, very slow, and beyond), and so on. Doom:vs, Swallow The Sun, My Dying Bride (some drumming patterns and even some of the keyboard lines remind me a lot to them in their darkest era), Evoken and Novembers Doom are just a fragment of influences. This goes on with the second composition, Tamtu, though this one includes more funereal aspects. Shape Of Despair, Skepticism, Remembrance, it's just a selection that comes to mind. And of course, do not forget The Slow Death, who share members with this band, and who have some comparable elements in common. This lengthy piece (it clocks almost nineteen minutes) brings a freezing mixture of dolorous and woeful melancholy and dreamlike elegance. Seen the length, one can expect quite some variety – and that's correct. Besides rather 'traditional' or 'conventional' elements and structures (once again, there's nothing wrong with this 'orthodox' approach, for the song writing and performance are intelligently superb), you have, for example, a short acoustic intermezzo after seven minutes, some solos that take you away to endless landscapes, the addition of piano, and a wonderful outro.
The sound quality is extremely professional, without being ridiculous in surgical decency. The production is massive and bombastic yet still raw, with a mixing process that made all individual elements come to the foreground. The guitar lines are, of course, very important, but there is an equally divided important role for the rhythm guitars, bass guitars, drums, vocals, piano and synths.
Track 3 and 4 are created by Promethean Misery, a one-woman army led by Samantha Kempster, also from New South Wales. She surprised me enormously last year with Tied Up With Strings (http://www.concreteweb.be/reviews/promethean-misery), the successor of Ghosts (both released via Canada's PRC Music), as well as the own-viewed cover version of My Dying Bride's From Darkest Skies (available on YouTube, in case of interest).
Anyway, in the vein of that former release, the two compositions (Mind At Wrest and Shadow Fell And Followed; both of them clocking in between thirteen and fourteen minutes) have no guitars, even though it does sound like that. Instead, Promethean Misery make use of distorted violin, which gives the whole an extremely oppressive, heavy atmosphere. The sound of these violins holds the middle in between darkened keyboards and fretless bass guitars. Besides this, there is also 'normal' violin play, keyboards, piano, drums / percussion, and voices. The latter, the voice, is of a mournful kind, yet extremely intriguing because of two elements: the warmth and the state of hypnosis. The warmth has to do with the timbre, being sorrowful and murky (not exactly mirthless), and at the same time expressing strength and emotion. With that hypnotic side I rather refer to the softness and integrity of it, going for both low-tuned and little higher (no soprano stuff!) parts.
Composition-wise, here too is an enormous richness, despite the very desolate, feral, even depressing atmosphere. Particularly in Shadow Fell And Followed you can experience that magnificent, prolific integrality, when all elements are fused into a concept that is, at the same time, both warm and freezing. The distorted strings cover the whole in a saturnine mist (let you carry away with the opening sequence of Mind At Wrest, and you'll understand what I mean), while the 'lighter' excerpts, based on piano (of course, with other elements involved, like the keyboards), reveal a certain introspective aspect. The clean sound (here too: not pathetically over-produced, yet produced and mixed with a decent and well-balanced professionalism) strengthens the expressive emotionality without turning into some fake and pathetic experience. The mood feels so real, and in combination with the wonderful sound and, especially, the magnificent performance, Promethean Misery's contribution on this split is, once again, nothing but a recommendation.
Actually, this is not a recommendation, this split. All those who dare to call themselves fan of 'real' (Funeral) Doom-Death have no choice but to search for this magisterial split-album.