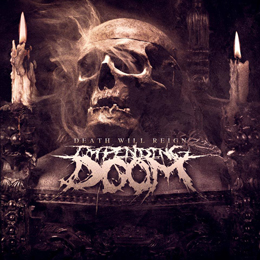 Release Date:
Monday, November 25, 2013
And so, I am again reviewing an album which would normally have been worked on by my revered Death Metal specialist colleague Ivan, due to the fact that our editor-in-chief overlooked passing the album onto him and, because he already had put enough on the poor dude's slate, subsequently put it on mine...using the (absolutely valid) excuse that occasionally all the work is getting at him (of course, that relates in the first place to the daytime job, which sees him left with so little free time he's occasionally sleepwalking on his days off!). Ach, enough complaining, like as if I care about a little variety in the stuff I get to review! Whether colleague Ivan is going to look kindly on having had to miss out on this latest Impending Doom albums, is another thing altogether!
First of all, let's set things straight from the beginning about the fact that we're dealing with the Deathcore/ Brutal Death Metal act from Riverside, California...and nót with a rebirth of the German Black/ Death/ Thrash Metal act by the same name (that band operated under that monicker from 1995 to 2003, when it split after having left us 4 demos, 2 EP's, splits with Messias Abaddon, Cromlech and Goatfire, a compilation, and 3 regular full-lengths). Founded by guitarist Manny Contreras (formerly of Oblige, Bleeding Through, The Devastated and xDEATHSTARx) and singer Brook Reeves, the Californian band went through several line-up changes, with current bass player David Sittig joining in 2006, Brandon Trahan (formerly of Plague Of Sheol, Mirror Of Dead Faces, and xDEATHSTARx) joining in 2009, and current second guitarist Eric Correa (ex-Oblige and ex-The Devastated, but also ID's acting guitar tech for the band's 2012 tour cycle) joining earlier in 2013.
In fact, the story of line-up changes is a little more complicated than that, with the band at periods being joined by a third guitarist, and Contreras even leaving the band at the end of 2010, to return in the Spring of 2012 (in between touring with Bleeding Through). In all, a total of 14 people have been members (sometimes only for touring) of this band, the current 5 included, of course (for an overview, check the band's Wikipedia page). In its formation line-up, the band recorded and released a 5-track demo entitled The Sin And Doom Of Godless Men in the band's formation year. This got 'em signed to Facedown Records, who were to release the band's first three full-lengths: September 2007's Nailed. Dead. Risen., 2009's The Serpent Servant, and 2010's There Will Be Violence. AS time progressed, the band's style changed from a pure Brutal Death Metal towards Deathcore, through the induction of down-tuned guitars in the sound. From the very beginning of their career, IM threw itself upon the touring circuit, soon saw themselves touring with already known bands, and have thus-doin' not only made themselves a large fanbase, but also ensured total album sales exceeding 100,000 copies, which even got their albums in the charts (Nailed. Dead. Risen. made it to #46 in the Billboard Top Heatseekers, The Serpent Servant to #3).
Oh, by the way, as this is a pivotal time in the band's career anyway, I will take out this opportunity to state a very weird fact about this band: although they started out as a Brutal Death Metal act, they are a true Christian Metal act too! When asked about their music, they will refer to it as "Gorship", an invention of Reeves described as "Worshiping God through our gore-sounding music."! And here I go..."Ah...Death Metal and Christians alike? I can imagine colleague Ivan cringing at the mere thought," so maybe he won't mind my doin' this review after all, eh!? Anyway, in 2011 the band signed onto their current roster, with the single For The Wicked as a first result being released in January 2012, followed by the full-length Baptized In Blood two months later. A Video for the track "Murderer" came along soon after, one for "Deceiver" later in the year.
Death Will Reign saw the band operating in quite a different way towards recording. In the past, the band went into the studio with 7 or 8 songs, and then struggling to make it 10. this time, the band had no less than 17 ready and rehearsed songs, from which they chose the best 11, choice in which producer Will Putney (check For Today, The Human Abstract, Vision Of Disorder, and more; he's also a member of the band Fit For An Autopsy, by the way, and he's been friends with Contreras from way back) participated. From the get-go, the decision was also taken to make things as honest as possible: the notes you hear played were not computer-inserted, the occasional strings you hear (during the songs "My Blood" and the album closing "The Great Divine", for instance) are played by actual people, and nót keyboard-generated!
If you've never heard this band before, I suggest you surf on over to their facebook page (www.) facebook.com/impendingdoom, where you can listen to the songs "Death Will Reign" (also the album's opening single) and "Doomsday" off the new album, and to some older material (3 more songs), in the "BandPage" section. Also posted there are the videos for "Murderer" and "Deceiver" (see previous paragraph). As I understand it, there should already be a video for the new album's track "Doomsday", so it might be worth your trouble browsing for it on YouTube. Anyway, if the more brutal styles of Death Metal are to your liking, you'll love Impending Doom, especially since these dudes combine their brutal music with songwriting skills which find 'em putting catchy melodies in their songs as well!