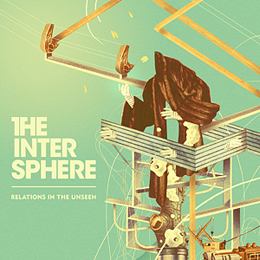 In 2006 4 bandmembers met each other on the Mannheimer popacademie and appear on 2006 under the backname of the singer "Hessler".  After 3 years performing on stage they changed their name in "The Intersphere".The current members are:
Christoph Hessler (vocals), Thomas Zipner (guitar), Sebastian Wagner (bass) and Moritz Müller (drums).
After two years surprising the German charts of "Hold On, Liberty!" The group returned with a brand new album "Relation In The Unseen". The info says this is not an concept album, but there is definitely an purveying train of thought overall. Yes that's the definition of this album. Staring with "Relation in The Unseen" title track the beginning with a nice ruff guitar riff. Nice start of the album, sounds very clean en commercial. You hear on the cd that they are searching their way in musicland to set them on the map. But after the first number I am no more satisfied about the songs. The level of the songs are making a dive to an underwater level. Sorry the quality is no more acceptable and there is no personality in the songs. Every song is like I ever heard that riff somewhere else. Sorry but this cd is not the best maybe later when they are grown up and know what they wanna do.