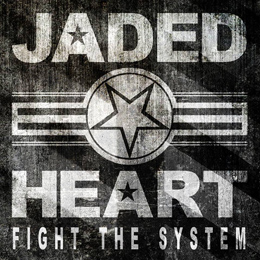 Release Date:
Friday, September 26, 2014
Line up :
Johan Fahlberg - Vocals
Peter Östros - Guitars
Masahiro Eto - Guitars
Michael Müller- Bass
Bodo Stricker - Drums
'Jaded Hear't represent top class melodic hard rock and have become a German rock institution since the band came into existence 22 years ago. Based in North Rhine-Westphalia, Jaded Heart have turned into a 'German-Swedish formation' since 2005 with singer 'Johan Fahlberg' and 2006 with guitarist' Peter Oestros' emphasizing the band's international standing.
After their successful tour with 'Masterplan' in 2013, presenting their first ever live album (Live in Cologne), Jaded Heart are now back with their 12th studio album 'Fight The System' on which they present themselves as usual at their best. Heavy riffs and metal-oriented lyrics lead to grand refrains with catchy melodies going straight into your mind. The band have produced 'Fight The System' themselves with coproducers 'Jan Vacik' and 'Mario Locher't at Dreamsound Studios, Munich. As a special treat the album includes the song 'Control', featuring 'Masterplan' lead vocalist 'Rick Altzi'. Earlier this year, 'Axel Kruse', drummer and co-founder of the band left Jaded Heart and was replaced by 'Bodo Stricker' (Callejon). Further live guitarist 'Masa Eto' has joined the line-up.
'Fight the system' became a mature hardrock album with an enormous punch. If Jaded Heart will continue with albums like this we will have a lot more years of pleasure with their songs.
Tracklist:
Schizophrenic
Control (feat. Rick Altzi)
Not in a million years
I lost my faith
Nightmare's over
Never free
Till death do us part
Terror in me
Haunted
Crying
In the shadows