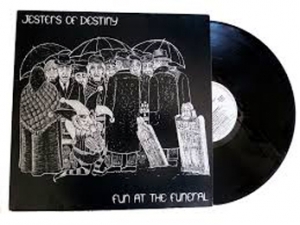 Release Date:
Friday, February 21, 2014
Ooh my, these are exhilarating times, when almost 30 years after the fact we're allowed to get ourselves a vinyl copy of this quite unique album by the somewhat insane outfit known as Jesters Of Destiny! I mean, I completely missed out on getting a copy when it was first released, back in 1986, you see!?
JoD came about in somewhat wacky ways, you know, with the founders originally a duo of commercial jingles makers. During the daytime, guitarist Ray Violet (actual name Gary Robbins) was a recording engineer at the Dawnbreaker studio (which was built by Seals And Crofts during their heydays in the '70s), from where Leon Sylvers would produce several R&B bands of those days with Violet behind the board. During the night time though, Violet and friend Bruce Duff (singer/ bassist) would use the studio for the making of commercial jingles (before, they'd been active with the somewhat lame Rock act Seeping Beauty, which had a song out on the Warriors compilation issued through the Azra Records label), calling in help from befriended musicians as fit them. At sometime in early 1984 though, the duo came up with this couple of guitar-based songs which simply would not do for jingles (and which they dubbed 'Psychedelic Heavy Metal'), but which were found ideal for the foundation of a somewhat unique Progressive Metal band. With the addition of additional musicians, the band was soon found rehearsing the duo's tunes in the basketball facility next door to the studio at the Dawnbreaker compound, and by Fall '84 the song was introduced to an international public thanks to being included in the track-list of the Metal Massacre V compilation, a series started by the Metal Blade Records label (then still strictly an American affair) to promote young Metal bands. As mentioned in the info sheet which came along with the download promo of the album, when looking at some of the other bands (Fates Warning, Hellhammer, Metal Church, Overkill and Voivod) which were introduced on that compilation album, JoD weren't the only band around which felt that it was time that Metal ventured outside of its safety zone.
During 1985 the band (with Duff on vocals and bass and Violet on guitar and keyboards, and a seemingly ever-changing series of lead guitarists and drummers – five of each, really) started playing in clubs around southern California's  Orange County and their home base of Los Angeles, and in the midst of all line-up changes recorded Fun At The Funeral. Funny detail: back then, me and some friends started this fanzine entitled Metallised (not to be confused with the rag from Denmark), and one of the band's featured in our very first issue (which appeared early Summer 1985) happened to be on JoD, following an advance tape the band had sent us through their promotion agency! In a later issue (April '87), we even printed an interview with Bruce (thanks to Roadrunner's Rebecca Williamson) following the European release of the album in early '87 (back then, Roadrunner Records mainly licensed albums from other labels for the European market) in which we found out that the band apparently appealed to both the established Metal fans and a large quantity of the younger music fans as well.
Back to our story, the duo next approached Metal Blade, as they'd already had contact with 'em...and sure enough they liked the album well enough. Possibly in view of the band's alternative view on heavy music, and perhaps feeling that some purist Metal fans would not appreciate JoD's the inclusion of a Pop songs like "Happy Times", or the instrumental interlude "Love Theme From Jesters On Parade", the label however decided to release the album through their new subsidiary, Dimension Records. Upon release, the album garnered several positive reviews (an the occasional absolutely negative one, of course), but failed to sell in any large numbers. Still, there were fans (also in Europe), and during the promotional gigs for the album the band played with acts as diverse as Jane's Addiction, the Dickies, Flaming Lips, L.A. Guns, Jetboy, the Fuzztones, and Thelonious Monster, showing, as the info sheet states, "...both how wide Jesters' style could venture, ànd how diverse the California scene was at the time..."!
In contradiction to what Bruce divulged in his Metallised interview (the band had started to record new material – most of which was already written – by Oct. 1986, a mere week after the American release of Fun At The Funeral, and were taking their time recording off and on, but hoped to get everything done by April/ May 1987), the info sheet we have here states that the band (which by then had found some temporary consolidation in the line-up with drummer Dave Kuzma and lead guitarist Michael Montano – formerly of Christian Death) didn't have enough songs for a second album, which made the band opt to record an all-covers EP as a follow-up for their debut full-length. 1987's In A Nostalgic Mood (which, among others, featured covers by Black Sabbath's "Electric Funeral" and Jimi Hendrix' "Foxy Lady") met with perhaps even more confusion than Fun At The Funeral. With sales disappointing, the band was dropped by their label, and both Kuzma and Montano decamped. Duff and Violet however persevered, recruited new members, but eventually found so many labels declining to issue their second full-length (tentatively entitled No Laughing Matters), that they decided to throw in the towel in early '88.
Well, that's the story on the band itself...but our story doesn't end there, of course. I mean, in Finland, Circle bassist and Ektro Records CEO Jusi Lehtisalo had gotten himself a copy of the album, and he'd been blown away by it. Through the conveniences of Internet, he got in contact with Bruce Duff in 2001, and an arrangement was made to release Fun At The Funeral on CD for the first time. Meanwhile the musicians had made friends of each other, which eventually found Duff not only collaborating on a 2006 Circle single and the ensuing EP Earthworm, but also to the 2008 Circle full-length Hollywood CD (which was recently re-issued on double LP, and reviewed by yours truly). In 2012, Circle again collaborated with Duff or a single featuring the JoD songs "Diggin' That Grave" and "God Told Me To" (which has that funny "Elanor Rigby" ending), with this time also taking Ray Violet on board.
As an end comment to the info sheet, which states that Duff and Violet have returned to the studio to record new JoD material, Lehtisalo puts forward the question whether the world has caught up, and whether the JoD will be more easily understood in 2014. He thinks most likely not. I say, with its growing population currently capable to reach out toward other parts of the globe ever more easily, the World is bound to have some more people into what these weirdos do, ain't that right? For listening sessions of the album, I'm afraid you will have to make due with whatever samples are provided by your online sales websites...at least until JoD have their own website. Hum, you see: another perk of modern times, as back in '86 we would've had to rely on what came over the radio, what albums were available at the local record store for listening sessions, or what material was played at the better "alternative" pubs and youth centers of the days!
Meanwhile, I've decided to add this album to my 1986 year-lists...not that I actually hàd such a list back then!