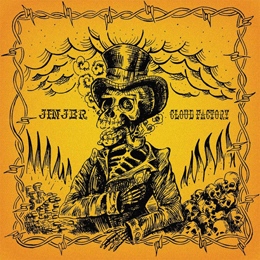 2009, the provincial town of Gorlovka (40 km from Donetsk) in the Ukraine. A depressive industrial setting, where a population of 240,000 people are trying to survive on the remains of the Soviet era. It's in that setting that 5 Metal-hungry youngsters decide to start a band of their own, playing their favourite music, but influenced by the great variety of alternative bands that had always been around in their town's Underground scene.
In late 2009 the band locked itself into a studio to record a demo EP, put it on the Internet, and subsequently split! You see, the really excellent singer Max Fatullaev engaged himself in another band, and moved to the US looking for a better life (probably heard about The American Dream). The other four simply scattered, but guitarist Dmitry Oksen was not content to leave things be that way, and quite determined to keep goin', he found a substitute for Max in the form of a pretty dread-locked girl with an incredible talent for singing. Sceptical at first, Tatiana Shmailyuk eventually agreed to be the band's stand-in vocalist until Max would return, but meanwhile the latter is still trying to make a go of things in the US, and Tatiana has put her stamp on the band's sound in a way that it became impossible to think of Jinjer without her.
Back to early 2010, when Jinjer (obviously with new members besides Dmitry and Tatiana) again entered the studio to record two independently released singles. These would serve to bring the band a local fanbase, which would enlarge as the band started playing shows, first in their hometown, then the surroundings, and eventually in the regional centre of Donetsk. But the band suffered from many line-up changes : as some musicians were simply not good enough, others were impossible to work or get along with, and yet others were simply into different music, and throughout most of that year the band did no tours or festivals at all. One positive recruitment during that time, came when guitarist Roman Ibramkhalilov not only turned out to be an all-round nice guy, but also a brilliant guitarist and composer.
The winter of 2011 found the band left by yet another drummer, and the two guitarists immediately invited their old friend Alexander Koizchuk, enticing him to learn at least 7 songs for a gig only a month away. He succeeded gloriously, and that same gig (played with a local band from a town some 30 km from Gorlovka) also would land the band its final member. At first, bassist Eugene Kostyuk simply became a good friend of the band (whose members all had been friends since childhood, and some of them had even played in bands prior to Jinjer), and it has to be said that, when the band was again looking for a bassist in the Summer of 2011, there were some initial doubts as to Eugene's candidacy for the spot. But eventually there were more pros than cons, and at a first rehearsal with Eugene, the band got a call from Beast Studio, to take part in a new project of theirs, called Beastarium, in which they would make a live video and audio recordings of a band playing in the studio as they would on stage : one take, no corrections or over-dubs! The band agreed to participate, and Eugene came through for the band. The three videos (for the songs "Destroy", "Waltz" and "Scissors") that were recorded (and which can still be viewed on the band's YouTube account) greatly helped the band to break through on a "national" level, while also giving the band members a greater confidence in their individual and gathered strengths.
2012 would become what the band calls its "watershed" year. The end of February would see the release of the "Exposed As A Liar" video (the band's first official release, you know), which was filmed completely free by friends and edited by the band itself. In the following year, the post at YouTube would get nearly 200,000 hits, gaining also the first fans abroad, and the interesting erection of the band's facebook page by American fans, who then relinquished the administration of the page to the band. 2012 also found the band self-releasing its debut 7-track mini-album Inhale. Do Not Breathe, and playing some 26 shows all around the Ukraine, including a performance at that year's Best City UA (with Evanescence and The Rasmus as headliners), from which the band was claimed to be the real discovery. In November the band released its second official video "Scissors", which was filmed during the band's performance at Kiev's Bingo Club, known as Ukraine's best venue for alternative gigs. In 2013, Jinjer signed a deal with The Leaders Group, who subsequently re-released Inhale. Do Not Breathe on March 15 (with bonus tracks making for a 35-minute "full-length" album). They were also hailed in Ukrainian press as the best band of the year.
And now, for some details about the band's musical stylings, shall we? When Tatiana joined the band in 2010, the band played a mixture of Progressive Metalcore and Groove Metal, and since then there's been a shifting to the European school of Death Metal, with elements/ shards from Funk, Reggae and Jazz occasionally coming through. The band has often (and mistakenly) been compared to the likes of Iwrestledabearonce, Straight Line Stitch, Arch Enemy, and others along that line. When asked about their influences however, the band members will always cite the likes of Lamb Of God, Pantera, Gojira, Killswitch Engage, Death, Chimaira, All Shall Perish and Protest The Hero...while Tatiana will state that Sandra from Guano Apes and Shamaya from Otep were her biggest inspirations for becoming a female singer (she also mentions Opeth's Mikael Äkerfeld and LOG's Randy Blythe). And listening to her versatile singing (from clean to grunt and back again in no time) I now sure understand where she's coming from!
April 2014 found the band self-releasing its debut full-length in the Ukraine (with the Leaders Group giving it a more worldwide distribution in August), and to promote the album Jinjer went on a long European tour during April and May, which found 'em playing gigs in Poland, Germany, the Czech Republic, Belgium, France, Switzerland and Russia, during which they shared stages with Bless The Fall, Caliban, Clawfinger, Ektomorf, Evanescence, Pain, The Rasmus, and Tiamat among others. So successful were the shows, and so much in-demand was the band, that they again went on tour through Europe (not only returning to Poland, Germany, the Czech Republic, Belgium, France, Switzerland and Russia, but also taking in new territory with shows in the UK and Greece), and additionally doin' shows in Romania, Bulgaria, Moldova, and of course the Ukraine! In other words...this Ukrainian band is hot!
At (www.) facebook.com/JinjerOfficial, you can listen to not only all tracks off the new album, but also those off the mini-album, and some extra live versions to boot. Also present there, is a host of videos (including the Beastarium session). Enjoy the offering...and I'm sure that, if you're into female-fronted Melodic and Progressive Metalcore, you'll find it in your heart to possibly buy the album (you know, I sometimes wonder why bands put out their complete albums on the internet for everyone to listen to at any chosen time...better then, to disclose only a part of an album, and have people wanting for the rest of the material, enticing 'em to actually buy the album, you know?). Well, I for one am curious to know what this band may evolve into next, and I'm looking forward to the band's follow-up album with some anticipation!