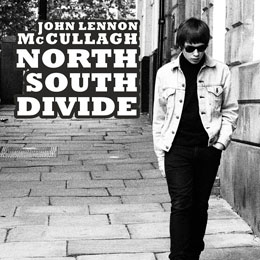 Oh my, what the heck have they put in my to-do box now! No, wait a minute Tony, before slaggin' this thing down, first get to the history bit! Yeah...well okay!
Music was always abundantly present in the McCullagh household, and youngster John Lennon (his real name...blame his parents!) was raised on the steady diet of music by The Beatles, Oasis, Paul Heaton, Frank Sinatra and Bob Dylan. Then one day, when the family was still living in Melbourne (Australia), John's dad took him on a road trip to go see play Bob Dylan...for a consecutive 9 shows in 10 days! The adventure severely changed young John's life, and aged 12, he decided to pick up an acoustic guitar and start writing his own songs. Soon after having mastered the guitar (and picking up further influences from the likes of Donovan, Paul Weller, Mark Bolan, Leonard Cohen, Van Morrison, Johnny Cash and Jake Bugg), he also learned to play the harmonica. In late 2012, the family relocated to England, to Doncaster in the South of Yorkshire, to be precise, and John started doin' his first low-profile gigs in England's North-East, which eventually included a support slot for Paul Heaton (frontman of Housemartins & Beautiful South) at Sheffield's Mosborough Music Festival in June of last!
That he got noted was of course at least partly due to the fact that John was only 15 at that time (yes indeed, fifteen!), and some people in the music business were swift enough to hail the young talent...like Courtney Love at one moment stating, "Who is this 15 year-old kid doing Dylan better than Dylan?" (one of the songs in John's set is Dylan's "Masters Of War"), or John Robb mentioning, "You now when you hear someone really good that it blows you away, it transcends influences and decades and makes something old sound brand new..."! Someone else whom was quick to respond, was 359Music's CEO/ producer Alan McGee, whom signed John for the release of his first album. So next up, John goes down to McGee's studio in Sheffield, and records the album in just one day!
In hindsight, doin' things that swiftly may not have been the best modus operandi at that moment! Had the kid been exerting his vocal chords somewhat on previous nights' gigs? Was his health somewhat under the weather? Or had the possibility of doing his first album gone slightly on his nerves? Whatever...fact is that on many of the 12 songs on the album, a certain vocal strain is noticed, causing John to sing out of tune quite regularly. Combine that with a certain "vocal melody" returning in a couple of songs, and as a result you'll understand why I found the album nagging at me toward the end! Musically speaking, I'll keep my criticism moderate, as some diversity is put in the tracks by John's additional harmonica play (on a foursome of the songs) and a violin occasionally being added (to 3 other songs). Lyrically, the boy's very strong as well, although one mùst smile at the lyrics of the lengthier album closer "The Strand", knowing that the boy speaks from fantasy and not from first-hand knowledge.
Pity about that negative undertone, innit, because I've seen live footage of the boy (posted at (www.) facebook.com/JohnLennonMcCullagh) on which he performs admiringly! For your bit of listening, that's where I'l direct you, although you might also check what's available at (http://) soundcloud.com/john-mccullagh! Until I hear better studio recordings however, I'll keep my rating critically low!