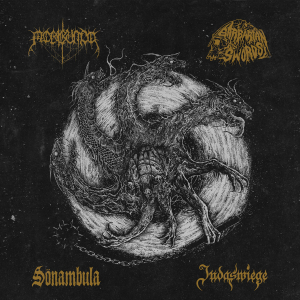 Negre PlanY is a new sub-label by Negra Nit Distro from the country of Catalunya – oops, I mean from the region of Catalunya. On June 21st 2019, this label brought out two things as first releases, being the debut full length for Melangia (unfortunately this album did not come my way (yet), so I can't write down my thoughts on it) and a split which this review will deal with. Tetrarchia Ex Bestia is a four-way split, gathering four pretty interesting acts from Spanish soil. The whole has been mastered by Javi Félez at his Moontower Studio (think: Graveyard, Vidres A La Sang, Rotheads, Ravenous Death, Atavisma and many more), and the intriguing artwork and lay-out were created by Decapitated Christ's César Valladares, who also created stuff for bands like Decapitated Christ evidently, Graveyard, Krisiun, Asphyx and Come Back From The Dead, amongst many others. The release of Tetrarchia Ex Bestia is heavily supported by the fantastic assistance of Iberia's finest Blood Fire Death, by the way.
---
Tetrarchia Ex Bestia opens with four new tracks by the young duo Judaswiege. As from 2016, Obszen (also in Bizarre) performs all instruments, and Reverend Dis (also in Dis Gob) takes care of lyrics and vocals. After a demonstrational recording, there was a first EP in 2017 (which did include those demo-tracks too), released via Base Record Production and, shortly after, Godz Ov War Productions.
The duo brings a melodious yet also merciless, harsh form of traditionally-styled Black Metal with a thrashy / thrashing edge. The focus lies on fast, sharp riffing, brutally supported by an unstoppable rhythm section: thunderous drum blasts, killer guitar lines and pounding basses. Characteristic too, and remarkable, are the unusual screaming vocals by the reverend. The whole package is grim and Arctic-cold, a fist in the face of the Mighty One, a sonic translation of acid, venom and bile. Especially that touch of old schooled Blackened Thrash Metal makes the whole sound even nastier and dirtier, covering the whole in a sadistic pleasure to torture the listener's ear drums. Aural rape and violence, hit me baby one more time…
Tracks: Pear Of Anguish, The Pit And The Pendulum, The Iron Maiden, The Middle Age (+/- 15 minutes)
---
Next are three compositions (amongst which a remarkable cover track!) from Moribundo, a band that sort of modestly surprised me two and a half years ago with their debut Raiz Amarga (Satanath Records and More Hate Productions). The duo / trio (depending on the fact whether you consider the vocalist a permanent member, or the lyricist as part of the band; but let us not start an in-depth philosophical discussion about membership) decided to continue where they left off with their debut, and it is at least as interesting…
But it is even more than 'at least as interesting', for Moribundo continue their path, yet they go deeper into the abyss, like following a path into the absolute dark. The basement is built around the tradition of Doom-Death especially, so that did not exactly differ. Those elements that made the Doom-Death scene so huge almost three decades ago are still represented. Ultra-heavy riffs, ultimately deep grunts and a monumental rhythm section do still belong to the party. The play also includes the typifying synth lines, piano, acoustics, you know. But the evolution finds it sources within the majestic song writing, the fabulous sound quality, and the subtle additions. With the latter, I refer to the few hoarse screams, a certain progressive execution once in a while, or the lugubrious semi-blasting outbursts, amongst other things. There is so much to experience, so much variation, but with a convincing cohesion.
Oh yes, I mentioned 'remarkable cover track'. Only half a minute, but Sufres is a reinterpretation of Napalm Death's You Suffer, and it is as short as it is impressive.
Tracks: Virgen, Amor / Entierro, Sufres (15 minutes)
---
Sönambula are a trio (with a newly recruited bass player) from the Basque region with a couple of cool releases in the past: the EP Hilen Argia (Base Record Production) and the full-length albums Secuela (Base Record Production once more) and last year's Bicéfalo (Xtreem Music). On this split, this band too collaborates with three new songs.
What they bring here is at least as great as on Bicéfalo, being a very filthy, morbid form of monumental Doom-injected Death Metal from the Old School. You know, this is what bands like Autopsy, Asphyx, Bolt Thrower, Atavisma or Entombed once started, and now perfected with Basque superiority. It's Punk for metalheads, and Hell no, this shit surely is not original or renewing at all. Yet then again, why would they anyway, for paying tribute to the glory of this specific scene with such magnificent execution does not need to be reinventive. Honest and pure Morbid (Doom) Death F*cking Metal it is!
Tracks: Entrañas, Conspiración Subterránea, Regresión (almost 13 minutes)
---
Last but not least are the lethal horde Barbarian Swords, contributing with two pieces. They gained something like 'popularity' through their two fantastic full-length albums Hunting Rats (early 2014, released in conspiracy with Blood Fire Death) and Worms (released late 2016 via another unholy alliance in between Satanath Records and Cimmerian Shade Recordings). In 2018, by the way, the band also released a very limited live recording on vinyl, which is sort of a collector's item in the meantime.
Their contribution on Tetrarchia Ex Bestia is a conceptually inspired one once more, focusing on life's obliteration and the end of existence in the universe. Hail to the Goddess of Apocalypse and Destruction. From musical point of view, both pieces are of an incredibly harsh, sordid kind. Is it Black Metal? Is it Funeral Doom? Whatever it is, this material summons the most negative, virulent and abhorrent feelings of man. It's oh so slow, so asphyxiating, so severe and so uncomfortable. In some way, the whole carries a touch of industrialism – especially the gashing guitar sound has that characteristic Post-approach. Extremely fine too are the sudden outbursts, the abrupt eruptions that strengthen the atmosphere of havoc and abolishment. Almost ritual, almost prophetic, Barbarian Swords offer the audience another unsightly, ill vision of man's future. …the beauty of hideousness…
Tracks: Goddess Of War And Annihilation, The Eternal Axe Of The Goddess (16 minutes)
---
Anyway, this is a split album, clocking almost one hour, that represents some of the better things within the Thrashing Black, Doom-Death, Morbid Death and Doom-Black scene. The diversification is quite extended, but the total experience, being a soundtrack for the sickness called humanity, will surely be adored by all negative souls around.
http://www.concreteweb.be/reviews/moribundo