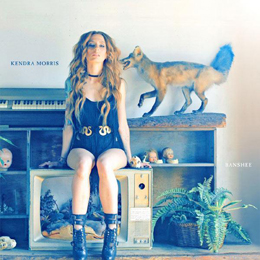 Did you know that people born from parents already active in music, will often also get into music themselves? Of course, deviation from that statistic rule dó exist, and it's not because the parent(s) was successful, that the kid is later equally (as) successful, but usually there's a degree of perseverance in kids from musicians to at least try and make it in the business themselves!
It's a rule apparently also applicable to Kendra Morris, whose St. Petersburg, Florida based parents played in bands together. Starting to sing at the tender age of 3, she soon enough surprised her parents' friends with her capacities as a vocalist. Having made up er mind about her own favourites among the songs of her parents vinyl collection, she soon found her own way into the music cabinet, making for a regular diet of Marvin Gaye, the Spinners, War, Stevie Wonder, Jackson 5 and Temptations. Singing along with the songs, she developed her voice, and at the age of 8 discovered that the karaoke machine she'd gotten for Christmas could also be used to record. So she got into her closet (to drown out outside sounds, you know – clever girl!) with some cassette tapes, sang on them, switched it to the other side, and sang over that, making for her own harmony vocals (a thing she'd learned the importance of by doing harmonizing practices with her mom). It was the beginning of a recording career which in essence still finds Kendra secluding herself into small areas!
She went into musical theater studies at a performing arts school, but decided not to pursue it, and went to college in Tampa in stead, where she actually spent more time singing in bands than on studying, and she inevitably flunked out! So she moved back home, to get a job at the local Johnny Rockets (I guess that's some kid of hamburger joint), where she'd have to wait on the kids she used to go to high school with. Rather than having this embitter her spirits, Kendra used the experience as an incentive to go for something better. In stead of going to sing in other people's bands again, she decided to start writing her own songs, as she felt she had something to say. With the help of her father, she learned how to play the guitar, and her career as a singer-songwriter was started! By 2003 Kendra was leading her all-girl band Pinkricity, and a decision was made to go try for success in New York City. The grind of that metropolis eventually caused the band to split up, and also to Kendra's resolve in making a try at a solo career! Chance brought her across a second-hand 8-track recorder, which she installed in her closet, and started recording a collection of songs which would be released as her first EP's, 2007's This Wont Hurt A Bit, and 2008's Milk And Cookies. Another find which marked Kendra's career, was a secondhand Sharp GF-777 (the boombox made famous by the likes of Run-DMC and other '80s Hip-Hop artists), which she integrated into her live shows as her amplifier...usually at the initial dismay and eventual positive amazement of the sound guys.
White still performing solo around New York City, Kendra met up with producer/ guitarist Jeremy Page, with whom she collaborated to record her self-titled EP which was released in 2010. her qualities as a singer/ songwriter had meanwhile not been unnoticed by ASCAP and the Songwriters Hall Of Fame, and in 2011 these organisations granted Kendra with the Holly Prize (an award given to artists whose talents honor the legacy of Buddy Holly by way of excellence in songwriting, performing, and musicianship). Summer 2011 was spent supporting a tour of Motown Funk Brother Dennis Coffey, and Kendra enjoyed additional endorsement from DJ Premier with a remix of her Blaxploitation-flavoured single "Concrete Waves", and later in the year she recorded her debut album (this Banshee) which was originally released on New York's Wax Poetics Records during Summer 2012...and now got to us thanks to the Swiss Richard Walter Productions & Entertainment. The thing is, I'm quite uncertain when the Swiss re-issue happened, but what I dó know is that it already resulted in Kendra and her band (consisting of guitarist Jeremy Page, keyboardist Colin Brown, bassist Jeremy Siegel, and drummer Sam Merrick) being invited to play a couple of shows (two in Paris, one in Avignon, and another one in Berlin) in early November of last. In fact, the band returns to Europe in late January '14 for a month's tour, playing several shows in France, Switzerland, Germany, and make one-date gigs in Holland and the UK (London). By reading in between the lines, I've learned that in the meantime Kendra's at least released a new EP entitled Concrete Waves (title song also on the album, ànd re-mixed by DJ Premier, remember), and by checking the original release date for Banshee (28/08/2012), I found that there's already a second album entitled Mockingbird, released through Wax Poetics on July 30 of 2013!
What can you expect from a Kendra Morris full-length? Well, obviously the Motown sound is not far away, but the guitarist (obviously on Kendra's songwriting directions) occasionally goes into quite Psychedelic moods, which fit the basis Motown sound perfectly, but add some nice diversity! Obviously, there's also quite some harmonizing in the vocals. In essence, what I advice you to do, is to check out some of Kendra's music for yourself, which you can do by surfing to (www.) kendramorrismusic.com. In that site's "Music" section you'll not only find Banshee's songs "Concrete Waves" and "If You Didn't Go", but also a 34-minute interview with Kendra, and an additional song entitled "Same Old Clown" (actually a song by Chico Mann which features Kendra as extra singer)...and videos for the album's songs "Concrete Waves", "Pow" and "If You Didn't Go"...as well as live versions of the album's "Waiting" and "Shine On You Crazy Diamond" (a cover of the Pink Floyd song, which closes the album – and I assure you that the studio version is even better than the live one!)...as well as a video for the new album's "Winding", a cover of The Rolling Stones' "Miss You", and an additional live track entitled "Evil". Quite sufficiently enough to convince you of the qualities of this very nice young lady indeed!