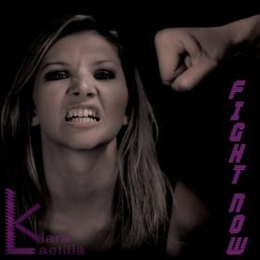 Release Date:
Friday, November 22, 2013
Kiara Laetitia Italian ex-vocalist of Skylark (and writer, model and actress, too). "This work is dark yet melodic and positive at the same time" says Kiara "I've been through one of the toughest moments in my life and I came out of it as a new person, stronger I should say and this is how the idea for 'Fight Now' came about.
The EP contains 4 songs: "Fight Now", "I'm Not God", "Miss You Again" and a cover version of Virgin Steele's classic "Victory Is Mine". Don't expect any Doro sound, but her voice strong enough to carries well in this type of music. But the music is to well pre-arranged, "Fight now" has the potential to score as an radio hit but the other 3 songs dies after 1 minute playing. All for all I hope she gets airplay in US and Europe otherwise het solo carrier will be gone.