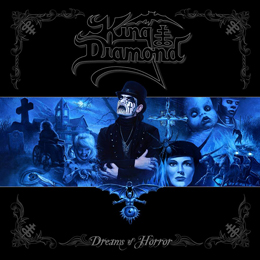 A double CD collection of 'King Diamond' songs, newly enhanced into ultimate editions, will be released by 'Metal Blade Records' next month. King Diamond's 'Dreams of Horror' is the only 'best of' album covering the band's entire career. King Diamond and 'Andy LaRocque' meticulously mastered and enhanced these 23 songs into the ultimate editions, chosen by the band from both the Roadrunner and Metal Blade catalog.
Dreams of Horror will be available on November 11th.
Disc 1:  'The Roadrunner Years'
01. The Candle
02. Dressed in White
03. The Family Ghost
04. Black Horsemen
05. Welcome Home
06. The Invisible Guests
07. At the Graves
08. Sleepless Nights
09. Let It Be Done
10. Eye of the Witch
11. Insanity
Disc 2:  'The Metal Blade Years'
01. Dreams
02. The Spider's Lullabye
03. Waiting
04. Heads on the Wall
05. Voodoo
06. Black Devil
07. Help!!!
08. Spirits
09. The Puppet Master
10. Blue Eyes
11. Never Ending Hill
12. Shapes of Black