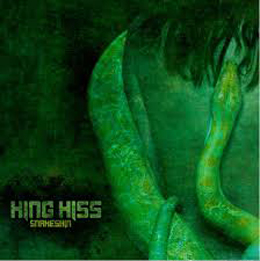 Short on the heels of the band's 3-tracked, self-titled debut EP release, this Belgian "Rock" quartet comes along with a new 7-track mini-album, again self-released. A review of the first EP, done by colleague Jeroen was posted 03/02/2013, and is obviously still available for your scrutiny. My review will however, grab back to the band's origins, as that was regrettably omitted. I mean, a personal letter written to our editor-in-chief including that story was included in the info I got along with the promo copy of the album, so I could hardly resist translating that, you know!
So, here goes : In June of 2011, drummer Jason Bernard (whom by then had seen his own band Gootch dissipate) was put in contact with guitarist Joost Noyelle (a veteran of the Belgian music scene with antecedents including Congress, Liar and Man's Ruin) through a mutual friend. Joost (currently going under the assumed name of Josh Fury) had already been looking for a new project to put his inspirations into, and together the duo started working on what later would become King Hiss. In August 2011, the duo was enlarged to a trio with the inclusion of bassist Dominiek Hoet (formerly of Empathy, Man's Ruin and One Fine Cast), and the quartet was completed in October, when singer Jan Caudron (of Fenndango and Carneia fame) joined the others, after being blown away by attending a rehearsal during which Josh/ Joost did the vocals. All being seasoned musicians, the guys wrote a set of 11-12 songs in a relatively short time, and did some live try-outs in February and March 2012. The guys then jumped into a studio to record the 3-track debut demo, and went on to play one or two shows a month. During the late Fall of 2012, the band retreated into Hearse Studio to record the new 7 tracks of this here mini-album.
The band cites the likes of Red Fang, Fu Manchu, Corrosion Of Conformity and Only Living Witness as its main influences, and that becomes quite evident in its music, which is a blend of high-octane Stoner with elements of Hardcore (no wonder colleague Jeroen felt he heard some Mastodon in the band's music, you know!). If that description sparked an interest in you, dear reader, then by all means dó check out the band's website (www.) king-hiss.com [in the "Media" section, you'll find the official music clip to the mini-album's track "Rollergirl", in-studio footage (recording of guitar on album title track and drum recording of "Rollergirl"), and two tracks recorded live from the band's performance at Iron Muide in Gent on June 17, 2012] and its page at (www.) myspace.com/kinghissband [complete debut EP available – also at (www.) kinghiss.bandcamp.com, by the way]. Expect to be blown away, because the songs have both power and instant catchiness!