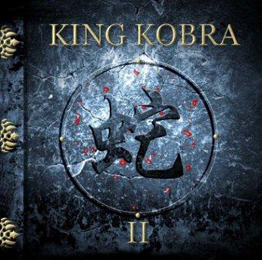 King Kobra was a band that was formed in the eighties by Carmine Appice.  Other band members at that time were Mark Free on vocals, David-Michael Philips and Mick Sweda on guitars and  finally Johnny Rod on bass. They only released two albums, the 1985 'Ready To Strike' and 1986's 'Thrill Of A Lifetime' on Capitol and an independent release in 1988 'King Kobra III'.  The band was dissolved after that, since Carmine started his Blue Murder project in 1989. 
But who'd have thought the band would resurrect after almost 25 years in 2010, with most of the old line-up present except the vocalist.  As replacement none other than Paul Shortino, famous for his work with Rough Cutt and of course Quiet Riot. 
In 2011 they released their first album 'King Kobra' on Frontiers Records, and now, two years later, they're back with 'King Kobra II'.  What they bring us is pure eighties hard rock.  And while not being the most original album that's been released so far this year, the quality of the music is very good.  We've heard it al before, but who cares.  And don't forget most of these guys are nearing the retirement age, or have already reached it. There's a good doses of blues mixed in as well, which has also to do with Paul Shortino's bluesy voice of course.  This is definitely an album that lovers of late seventies and eighties rock must give a try.