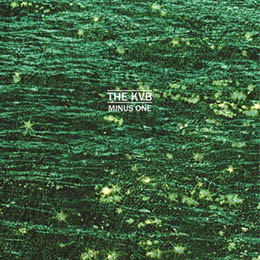 Release Date:
Monday, November 18, 2013
The KVB, according to the (really very limited) info sheet that came along with the download promo of the album: "...an audio-visual project of the from London hailing Nicholas Wood and Kat Day, whom together combine heavy wall-of-sound guitar wok with synths, drum machines and stretched vocals...think Jesus And The Mary Chain, anno now! The KVB has done several European headliner tours, did tours in the US, and will be doin' Australia during 2014 with Brian Jonestown Massacre. Minus One was recorded, mixed and mastered at home by Nicholas and Kat, and all of that in just 5 days."!
More historical facts I came to know by some browsing...the project's been active since at least early 2010, the duo releasing a first 8-track limited edition cassette (only 36 copies, would you believe that!?) entitled The Black Sun through the Free loving Anarchists imprint in May of that year. A follow-up release (this time a 3-track 10-inch vinyl) entitled Into the Night, would come only in June of 2011. A 10-track LP then, came in the form of Always Then, issued through Clan Destine Records in February 2012 (50 copies of the album were made to cassette by Sweating Tapes, to coincide with the band's US tour around that time). 2013 then, would be a really active year for the project, what with the February release of the 8-track Immaterial Visions (eventually issued on vinyl through Cititrax) being followed by the 5-track Immaterial Visions Remixes EP in May (printed on 10-inch 160 gram vinyl). The Minus One album was originally released as a digital-only EP in May 2011, issued on cassette (limited to 100 copies) by Canadian tape label Sans Issue Editions, and is now, with added songs recorded in 2012, being re-issued as an extended version on both CD and 12-inch vinyl. In other words, the correctness of historical facts depend on whom put them down to writing, doesn't it?
The same goes for musical descriptions, by the way! I mean, record companies will only tell you the little bits they feel people will like most, because they're really into the whole business to make money, now aren't they...so they wanna depict their products in the most positive way possible, don't they!? You see, The KVB does nót always depend on wall-of-sound heaviness. Nay, in fact several of their songs (on this extended EP, those are "Passing By", "Endless", and the album closing "Kill The Lights" and "Radiant Hour" - I'm guessing the latter songs were added to the original EP) are quite calm and serene (well, "Kill The Lights" actually has a weird intensity underneath...a threat so to say, which is never outed; and there is some subdued guitar being played in both "Passing By" and "Radiant Hour"), and focused on the synths, drums and vocals. The vocals now...stretched-out?, what's that about? I mean, just state facts, okay, and let's agree that Nicholas uses his way in a very melancholic, say even somewhat unilateral way within one and the same song, giving it a tad more liveliness in the songs in which sawblade guitar is being used. Those guitar-driven songs are what justify the J&TMC comparison...but didn't I just mention that half of the album is rather driven by synths? Overall however, this can certainly be seen as a great Shoegazer release.
For some listening sessions, log onto (www.) facebook.com/thekvb1, and move to the "Music" section, where you'll get connected to the band's Bandcamp page...which will allow you to listen to àll of the band's output! People into Shoegazer should spend a nice couple of hours on this!