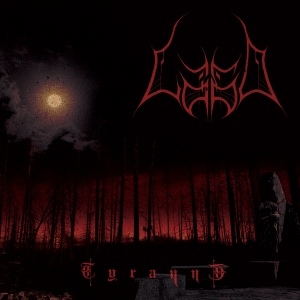 Lago are a band from Phoenix, Arizona, formed in 2010 and, in their milieu, known for the rather 'popular' EP Marianas (released at the very end of 2010). After some line-up changes, the band started writing on new material, and step by step new stuff got into form. Eventually, the band released their first album, called Tyranny, yet in a limited and underestimated promotional edition (CD-format), and that's when and where Blood Harvest shows up, giving this strong material a new chance, though this time being on vinyl. FYI: it was recorded with Ryan Butler at his Arcane Digital Recording Studio (think: Landmine Marathon, Phobia, The Funeral Pyre, Exhumed, Misery Index etc.).
Tyranny stands for forty minutes of timeless Death Metal, nicely balancing in between old schooled brutality high-tech melodies. The latter is a characteristic of the band, with permanently melodious leads and riffs pushing the whole forward, including several majestic, well-crafted solos. It does not mean that the rhythm section is inferior; on the contrary, there is quite some strengthening support coming from the rhythm-side of the band, empowering the basic structures. Once in a while they even play a head role; listen for example to the cool bass leads in a track like The Tyranny Of Men. And what to think about the fabulous cello parts in Reckoning?! Besides, there is quite some variation in tempo, with both fast and slow pieces (I adore the doomy finale of Pox Of The Weary, for example, with its fabulous and monumental riffing and great drum artwork).
The lead vocals are very convincing; extremely deep growling grunts carry the best moments of the classic school. On top of it, this throat gets supported by a grinding and blackened voice, adding a touch of suffocative obscurity.
And I am pretty 'happy' with the sound quality as well, for once again it is rather rough-edged yet decently recorded (cf. Ryan Butler's involvement), and it defines the sonic expression of this kind of (well-composed and fine-performed) Technical Death Metal!
Imagine a conceptual hybrid of Vital Remains, Hate, Unleashed, Morbid Angel, Aeon and Sinister, and Lago are born…